Winston-Salem - Our History
How it all began…
DreamMaker Bath & Kitchen of Winston-Salem started in the Winston-Salem area of North Carolina as a construction business started by Tracy Moore in 1995. Erik Anderson joined him in 1996. The two met while freshmen at North Carolina State University.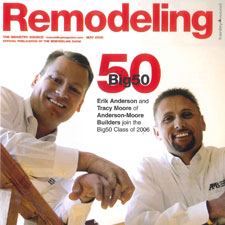 In 2006, the duo earned a spot (and cover photo) on Remodeling Magazine's Big 50. The business survived the economic recession in 2008, and became a DreamMaker Bath & Kitchen franchise in 2009.
"Unlike many firms who subcontract their labor, our site personnel are permanent employees of DreamMaker," said Anderson. "This helps us maintain our high standards and provides a finished result that customers will enjoy for years to come."
The team of professionals at DreamMaker Bath & Kitchen of Winston-Salem practices a "no-nonsense, 'roll-up-the-sleeves" attitude, according to the owners.
Tracy's wife, Julie, also works in the business. They have two daughters: Hannah and Sarah. Erik and his wife, Lisa, have one son, Bodie.
Who We Are
DreamMaker Bath & Kitchen of Winston-Salem, a division of Anderson-Moore Builders, Inc., offers comprehensive renovation, design/build and restoration services to expertly take homeowners from design to completion on any project. DreamMaker Bath & Kitchen of Winston-Salem has been recognized locally and nationally.
Making It Easier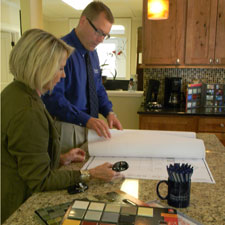 Deciding to renovate or remodel is an intimidating process. In order to make the experience less daunting, the team of experts at DreamMaker will oversee your project from start to finish. By bypassing the middleman, the remodeling process with DreamMaker is seamless. The process includes an in-house interior designer to collaborate and guide you through design ideas and licensed contractors to bring your vision to fruition.
We are licensed contractors performing the work ourselves. To ensure you are at ease during the project, the company also offers weekly progress meetings with each client, 24-hour emergency contact numbers, a production checklist, and numbers internal checks for each activity. Clients can rest assured their homes are in good hands. DreamMaker of Winston-Salem uses mostly staff members for every project, so clients know who is entering the home and when.
Clients come to us because they have other things to do in life, and stressing out about a remodeling project shouldn't be one of them.
Getting Started
Trust your next home improvement project to the professional staff at DreamMaker Bath & Kitchen of Winston-Salem. Stop by the Design Center at 425 West End Blvd. or call 336-722-3625 to schedule a complimentary design consultation.