Reface Your Cabinets to Transform Your Kitchen and Bathrooms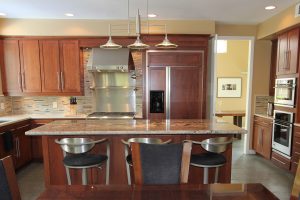 Cabinet refacing by DreamMaker® Bath & Kitchen give your home a convenient and cost-effective way to transform the cabinets in your home. Refacing provides all the benefits of brand-new cabinets, but without the drawn-out installation work and expense that new cabinets entail.
As long as your cabinets have a strong underlying framework, a Local DreamMaker Expert can improve their appearance and function in many ways. DreamMaker can upgrade your cabinets with:
New door styles
Solid wood doors
Rigid thermal foil doors
Laminates
Designer hardware
Decorative trim
Hidden hinges
Slow-close hinges
Rollout shelves
Lazy Susans
And more
Each DreamMaker Bath & Kitchen franchise is independently owned and operated.  Some services may vary depending on specific location and management.
Recent Case Studies
Project NameCase Studies 1
Location Rapid City, Dakota
Project Summary Harum corrumpit ex qui. Option pertinax expetenda eum eu, an ancillae reformidans ius. Ad has quas homero persecuti. Nominavi molestiae cu sea, in sint utroque duo. Nibh elit modus ius id, vim inimicus hendrerit reprehendunt no. Mea ad quem libris cotidieque, wisi nostro ei est.
Project Category Remodelling,
Testimonial Harum corrumpit ex qui. Option pertinax expetenda eum eu, an ancillae reformidans ius. Ad has quas homero persecuti. Nominavi molestiae cu sea, in sint utroque duo. Nibh elit modus ius id, vim inimicus hendrerit reprehendunt no. Mea ad quem libris cotidieque, wisi nostro