---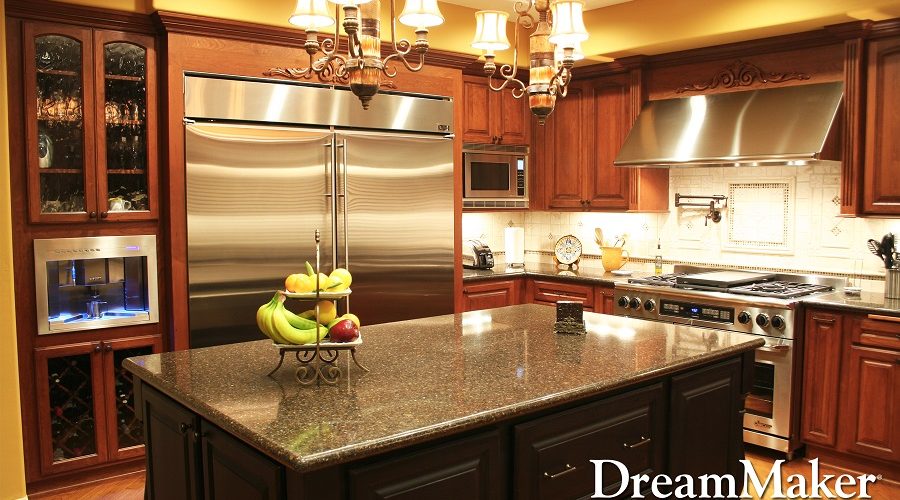 ---
Planning your kitchen remodel can be stress-free when you've already decided the key features to include in the new space. So what should your kitchen remodeling wishlist have on it? DreamMaker Bath & Kitchen of Livonia, the expert in custom kitchen remodel, shares some of most popular requests.
Better Kitchen Layout. With a smart remodel, you'll no longer have to worry about working in a cramped kitchen. A well-designed layout created by your kitchen remodeler can maximize available space, allowing for effective movement while comfortably accommodating family during the holidays.
Ample Counter Space. One problem some homeowners have with their kitchen is the lack of available counter space. With a remodel, you can increase your work surface area so you can prepare larger meals with efficiency. Have open shelves installed to keep mugs, plates and other pantry items off the counter. These items will still be in plain view, but they won't be in the way of meal preparation.
More Natural Light. Letting in sunlight can give your kitchen a more cheerful, spacious feel. You can open up this room by adding larger windows or even a skylight. While natural light offers the best results, you can still choose the next best thing if new window installation isn't possible. Ask your local kitchen remodeling company about layered lighting, which can be tailored to your specific needs and make common kitchen tasks easier.
Upgraded Cabinets. Your kitchen cabinets greatly influence the overall look of the space, so they should be beautiful. But what if they're already looking outdated? Check first for signs of structural damage. If there's none, consider investing in cabinet refacing instead of replacement. This transforms the look of your existing cabinets without the long installation process and expenses involved with a complete overhaul. Cabinet refacing offers many opportunities for customization, so you can still enjoy picking out door styles, hardware and decorative trim.
Your Choice for High-Quality Kitchen Remodeling Solutions
Look no further than DreamMaker Bath & Kitchen of Livonia for the highest quality kitchen remodeling solutions. Call us today at (734) 210-0000 or fill out our convenient online form to schedule your consultation.