---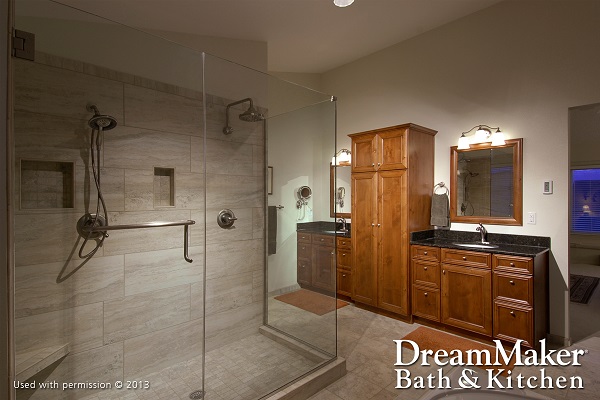 ---
So you're planning to remodel a small bathroom or master bath, and the thought of doing a tub-to-shower conversion has crossed your mind. For many homeowners, the appeal is obvious: showers are usually easier to clean, can save a bit of money on the water bill and can even create extra floor space. What's not to love?
We're glad you're reading this! While we at DreamMaker Bath & Kitchen love working on tub-to-shower remodels and think it's a smart move for a lot of households, it's good to first stop and consider whether it's the best choice for YOU.
Things to Consider Before You Remodel
Bathtubs and walk-in showers each have their pros and cons, so whether or not it's time for you to ditch the tub will depend on things like:
Small children. Many parents see bathtubs as a must for small kids—they help make bath time less stressful and less messy.

Seniors or people with limited mobility. Walk-in showers are more universally accessible than tubs. This is an important factor if you plan to age in place.

Number of tubs. Most remodelers recommend keeping the tub if it's the only one in your home, since having options helps prevent homeowner regret.

Tub location. How your plumbing is configured and whether or not you have a window over the tub will affect how much work (and money) will go into a tub-to-shower conversion. Your designer will inform you of any possible issues after surveying your bathroom.

Home resale. It's important to be able to offer options to buyers. If you plan to sell your home down the road, know that the lack of a bathtub can affect resale.
Taking all of these into consideration, we can say it's a good idea to replace your tub if you're not planning to sell, want to age in place safely and comfortably, and have another full bath elsewhere in your home.
Create Your Dream Bathroom
DreamMaker Bath & Kitchen of Livonia is one of the area's most trusted bathroom remodeling contractors. If you need help making educated decisions on the renovation you're planning, don't hesitate to give our design experts a call! You can reach us at (734) 210-0000 or contact us through our online form.