---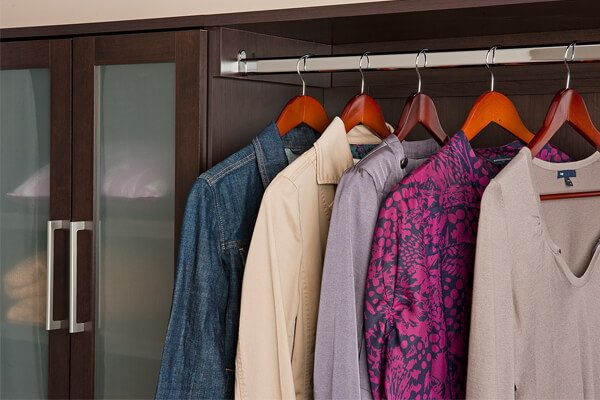 ---
Who hasn't thought that adding a closet to a bedroom could solve storage problems, only to find that the accumulation of more stuff over the years calls for a better solution than simply adding more closet space? Some homeowners even consider a full house renovation to find better storage solutions.
In an effort to follow the proverb, "A place for everything and everything in its place," we're sharing six easy tips to get your closet in shape over the weekend — and keep it that way!
Closet Organization 101
Sort clothes. Painful as it may be, it's probably time to toss or donate items you haven't worn in years. Keep only what you have worn in the last year, adjust shelves as needed, and add baskets to keep smaller items from getting lost.

Hang racks. Have empty wall or door space? Use the space to hang racks and hooks to display your favorite accessories while keeping them organized. You can use this method to keep belts, scarves, handbags and totes in order.

Arrange by item. Arranged clothes by item and color, spacing blouses and tops evenly apart. Overcrowding can cause unwanted wrinkles.

Invest in quality hangers. Hanger uniformity makes finding garments easier and helps tame chaos. Use light wooden hangers for blouses, and sturdier hangers for jackets and sweaters. For pants made of wool and other heavy fabrics, hang them from the waist using hangers with clips.

Add lighting. Ever try to find something in your closet in the dark? Adding sufficient lighting is important to make your closet space functional. Consider screw-in battery-operated LED lights to achieve great results for a fraction of the cost of hard-wiring.
Customer Focus Is Our Priority
At DreamMaker Bath & Kitchen of Livonia,  we are committed to your satisfaction. No matter the scope of your project, you can count on us to deliver the best results for you. To learn more about what we can do for you and your home, just give us a call at (734) 210-0000 or fill out our online form to contact us.