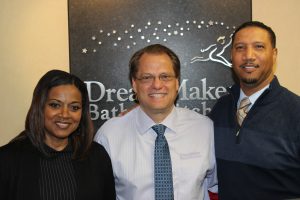 A little about us..
Steven, a Journeyman Carpenter, & Cheryl Bird are lifelong Michigan residents originally from Ann Arbor.
The interest in remodeling was birthed by the blue collar PRIDE of Steven's family roots. Steven's grandfather was a carpenter and his dad repaired radios, TVs, and appliances. He always thought it took a special skill to master certain tools. It became a reality after purchasing his first home in 1981. Steven and Cheryl got married and continued to purchase and remodel homes. He finished building trade school and a 4 year apprenticeship in 1992.
Steve has won several awards including:
Carpenter/Cabinet Maker Apprenticeship Completion Award (U of Michigan, 1992) Dpt of Public Safety and US Secret Service (U of Michigan, 2010)
Outstanding Service & Performance Silver Awards (2012) Graduate – U of Michigan Supervisor Leadership Graduate – U of Michigan Facility Management
Steven and Cheryl love remodeling and truly satisfying their clients. They love partnering with and inspiring their customers through innovation, strong work ethics and clear communication.