---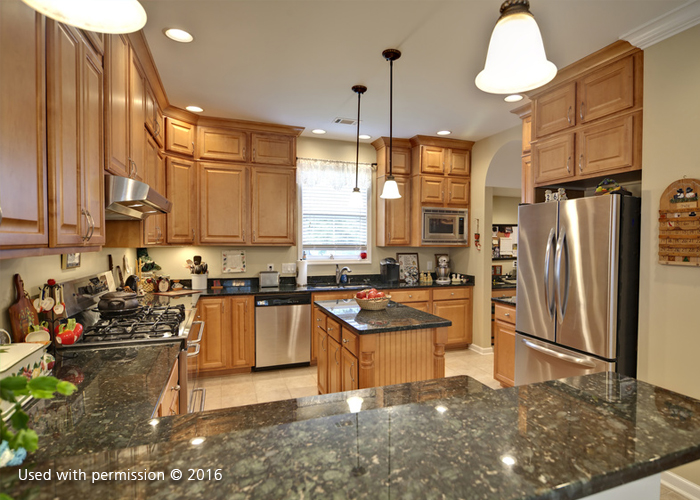 ---
You really can design a kitchen that's beautiful, intuitive to use and easy to clean. You just need to do a bit of planning and incorporate certain features in your kitchen remodel. In today's article, DreamMaker Bath & Kitchen of Livonia, one of the top kitchen remodel contractors in the area, has tips to help you remodel your kitchen and make it easier to clean.
Select a Seamless Backsplash
The backsplash is an important kitchen design element but it also performs an important job. It protects the wall behind the sink, counters and stove from water damage and other messes. This means that your backsplash will eventually become dirty through use. You should choose a backsplash that looks appealing but one that's also durable and low-maintenance. We recommend choosing a tile or stainless steel backsplash for easy cleaning.
Minimize Floor Seams
When choosing kitchen flooring, remember that the fewer seams and gaps in the floor, the fewer places dirt collects. The dirtiest part of a kitchen floor is the seam between the vertical toe-kick and the floor. You can eliminate this by rolling the edge of the floor up to the toe-kick. You can use this technique with tile, linoleum and vinyl. A wood floor can also do this by using custom-milled edge pieces.
Choose the Right Appliances
Select your kitchen appliances with care. Choose a range that's easy to wipe down without needing any hard-to-find cleaning solutions. Examine the appliance and look at the details, keeping an eye out for any nooks that are hard to get at and clean. For example, check the knobs to be sure they aren't too close together. We suggest an induction cooktop because it is flat and you won't have to worry about cleaning any grates.
Give Us a Call Today!
You can rely on DreamMaker Bath & Kitchen of Livonia for all of your kitchen remodeling needs. We use a distinctive, full-service remodeling approach to make remodeling projects as convenient as possible for our customers. We also communicate consistently throughout the entire remodeling process. We serve many areas including Livonia, MI. Call us at (734) 390-9191 to learn more about our services and products.