---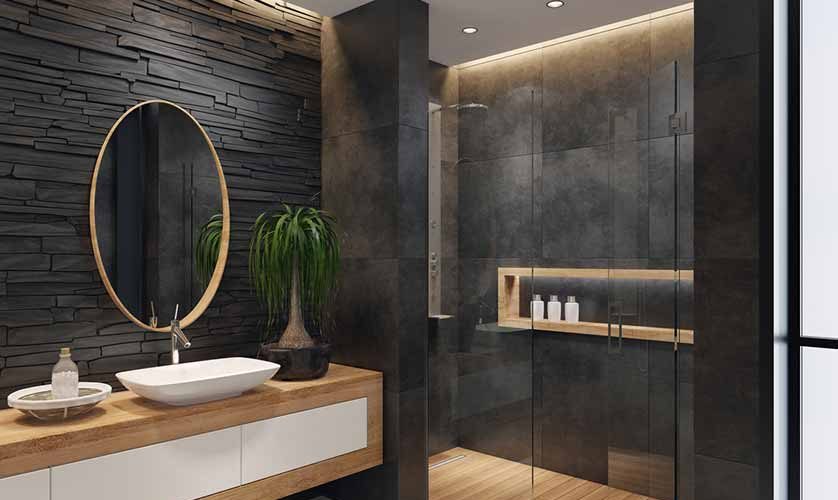 ---
Lighting can make or break the atmosphere of any space, and your bathroom is no exception. Ensuring you have the perfect balance of brightness and ambiance is key to creating a cozy retreat where you can relax and recharge. In this crash course on bathroom lighting, bathroom remodeler DreamMaker Bath & Kitchen explores the different types of lighting available and shares some helpful tips for choosing the best options for your space. 
Types of Bathroom Lighting
There are three different types of bathroom lighting. Ambient lighting, also known as general lighting, is the primary source of light in a room. It provides a comfortable level of illumination without glare and creates the overall mood of your bathroom. This type of lighting is essential for everyday tasks such as showering or getting dressed. It evenly illuminates the entire bathroom, making it easy to navigate and perform basic activities.
Task lighting, meanwhile, focuses on specific areas, particularly the vanity or sink where you perform grooming tasks like applying makeup, shaving, or brushing your teeth. It provides bright, targeted light to ensure you can clearly see what you're doing, reducing the risk of accidents and making daily grooming activities easier.
Accent lighting is another bathroom lighting type that highlights specific features or decorations in your bathroom, such as artwork, architectural details, or unique fixtures. While not essential for functionality, accent lighting adds a touch of style and drama, enhancing the overall aesthetic of your bathroom and drawing attention to your favorite design elements.
Tips for Choosing the Right Bathroom Lighting
When planning your lighting scheme for your bathroom, be sure to keep the following in mind:
Consider the size of your bathroom. Different lighting options may be more suitable for certain bathroom sizes. For example, small bathrooms may benefit from wall sconces, while large bathrooms may require pendant lights or chandeliers for ample ambient light.
Determine the purpose of each lighting type. Think about the tasks you perform in your bathroom and the atmosphere you want to create. This will help you decide which types of lighting to prioritize and choose the right fixtures accordingly.
Select the right fixtures for your bathroom style. Since lighting fixtures are available in various designs and materials, choose ones that complement your bathroom's overall aesthetic. Consider elements such as color, shape, and finish to maintain a cohesive look.
Plan for proper placement and installation. Take note of where each light fixture will be placed for optimal functionality and visual appeal. You should also address any installation requirements, such as wiring or structural support.
Hire a professional bathroom contractor. An experienced bathroom contractor can save you time, stress, and potential issues in the long run by offering expert advice on fixture selection and providing high-quality installation services. Entrusting your bathroom lighting project to a team of professionals ensures proper installation, adherence to safety codes, and the best results for your home.
Let's Talk About Your Remodel!
If you're searching online for a "contractor near me"  for your kitchen renovation plans, DreamMaker Bath & Kitchen has got you covered. Our remodeling team is committed to providing the highest quality workmanship and customer service in every project. To get in touch with an experienced bathroom contractor, use our "Location Finder" to get in contact with the closest DreamMaker team to you.