---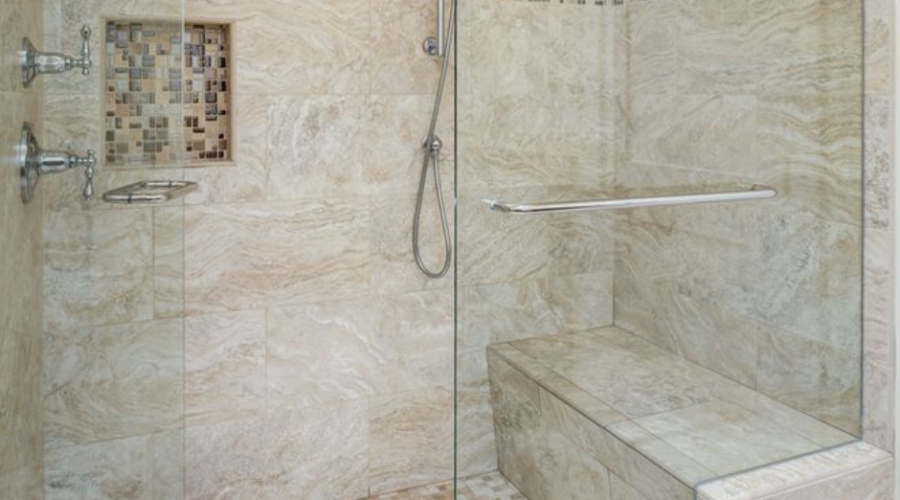 ---
Shower seating, be it permanent or removable, offers convenience and accessibility. It provides a stable and comfortable surface to maintain good hygiene and ensure support for people with physical limitations. In this post, DreamMaker Bath & Kitchen shares the benefits, considerations, and design ideas for choosing excellent shower seating.
Benefits
Any bathroom remodeler will tell you how having shower seating adds comfort and accessibility in ways that can help improve daily living. It can reduce the risk of slipping and falling while in the shower. Furthermore, it can make showering more comfortable and enjoyable for everyone, especially the elderly and individuals with mobility issues.
Factors to Consider 
If you are planning to incorporate shower seating in your bathroom makeover, you and your bathroom remodeler will have to consider a few factors before you make the selection.
Location. The seating must be installed where it fits in small shower enclosures. In bigger walk-in shower enclosures, however, you might have more seating options.
Height. Consider who will use the bathroom at all times. If an older adult in the household uses it frequently, you'll want to make sure it is at a certain elevation for their convenient use.
Material. Choose a material that can withstand moisture and heat. These options include porcelain, non-slip tile, stone, plastic, and resilient flooring with an anti-slip finish. Ask your contractor for other available options that they can install for you.
Design Ideas
When it comes to designing a shower seat, you have several options. You can install built-in benches and corner seating tiled to complement the color scheme in your bathroom. Alternatively, there are also pre-made freestanding stool benches you can move around conveniently. Other options include wall-mounted folding chairs with sturdy back support for those needing extra stability while bathing.
Let's Talk About Your Remodel!
If you're searching online for a "contractor near me"  for your kitchen renovation plans, DreamMaker Bath & Kitchen has got you covered. Our remodeling team is committed to providing the highest quality workmanship and customer service in every project. To get in touch with an experienced bathroom contractor, use our "Location Finder" to get in contact with the closest DreamMaker team to you.