---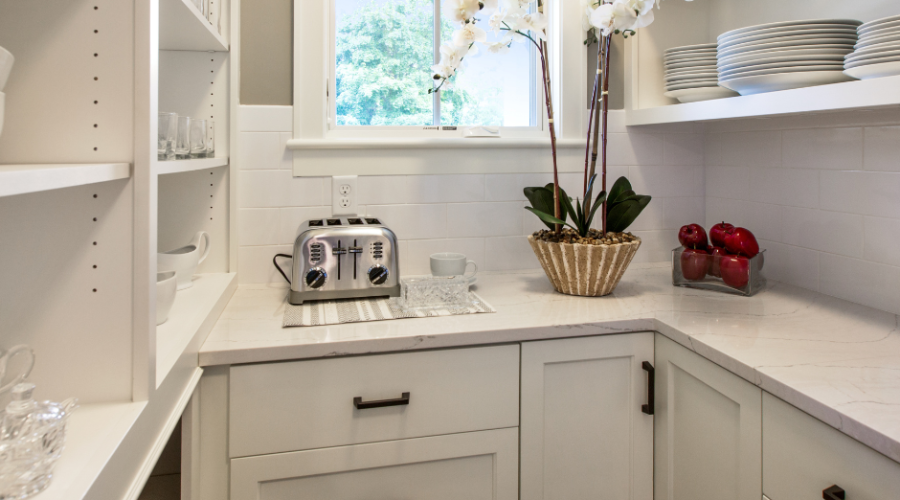 ---
A butler's pantry, also known as a serving pantry, is a small room or nook between the kitchen and the dining room. While once a feature found only in 18th to early 19th-century homes, these pantries are becoming increasingly popular in modern homes as a functional and stylish addition to the kitchen and dining areas. In this post, DreamMaker Bath & Kitchen will explore everything you need to know about butler's pantries.
More About Butler's Pantries
A butler's pantry is a small room located between the kitchen and the dining room. It could also be a small room adjacent to a formal entertaining space. Originally, butler's pantries in high-class homes were where servants stored and prepared refreshments. Today, they have evolved into practical and stylish additions to modern homes with enough storage for dishes, glassware, and serving pieces. A butler's pantry can also include countertops or work surfaces for food preparation and staging.
Different Types of Butler's Pantries
Butler's pantries come in various types with unique designs and features. Here are four different types of butler's pantries DreamMaker Bath and Kitchen can build for you:
Walk-in butler's pantries. These are the largest and most spacious of all the butler pantry types. They're typically adjacent to the kitchen and have ample storage space and countertops for food preparation. They could also fit a sink, refrigerator, and dishwasher in them.
Built-in butler's pantries. These are smaller and more compact than walk-in pantries but still offer plenty of storage and functionality. These types of pantries are usually integrated into the cabinetry and countertops of the kitchen, creating a seamless and cohesive look.
Freestanding butler's pantries. These are standalone units that can be moved around and placed anywhere in the home. They typically have wheels for easy mobility and often feature shelves, drawers, and cabinets for storage.
Furniture-style butler's pantries. These- are designed to look more like a piece of furniture than a built-in pantry. They often feature decorative details such as molding, glass doors, and decorative hardware and can be a beautiful dining room or kitchen addition.
Let's Talk About Your Remodel!
If you're searching online for a "contractor near me" for your kitchen renovation plans, DreamMaker Bath & Kitchen has got you covered. Our remodeling team is committed to providing the highest quality workmanship and customer service in every project. To get in touch with an experienced kitchen contractor, use our "Location Finder" to get in contact with the closest DreamMaker team to you.