---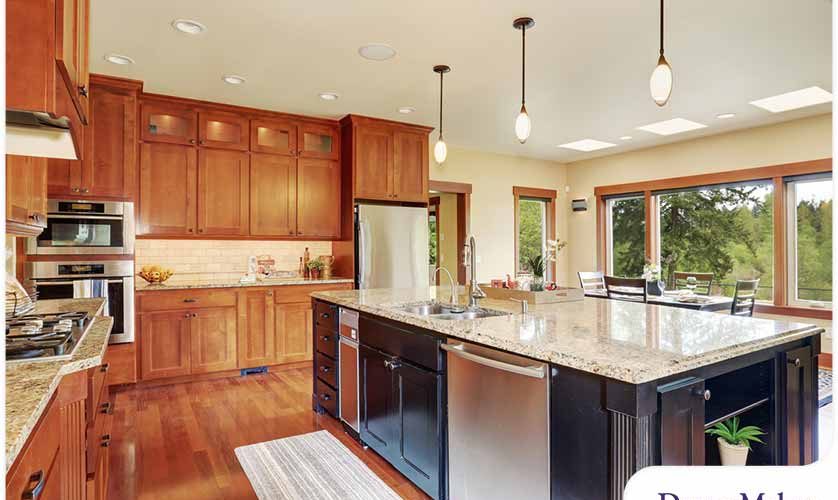 ---
A transitional kitchen is a seamless blend of classic and modern furniture, materials and other design elements. Since it provides a timeless look that can fit any home, it's a good choice for a kitchen remodel. But while the look and feel of a transitional kitchen may seem effortless, the attention to detail required certainly isn't. 
When it comes to designing a transitional kitchen, a fundamental understanding of some key concepts is important. 
Keep It Simple
Transitional kitchens should look and feel like a space outside of time. Gaudy centerpieces or loud pieces of furniture can easily feel out of place. Always keep in mind that transitional kitchens are typically understated. Choose simple designs for cabinets, seating, tabletops, appliances, and others. That said, elaborate carvings and designs on wood might be too much for a transitional kitchen. 
This rule also applies to colors. Opt for neutral hues like black, white, gray, and cream for the overall look. While adding some color isn't a big no-no, it might be better to choose colors found in nature such as blue or green. What matters is that loud colors shouldn't overwhelm the entire kitchen.
Find the Right Light
Transitional kitchens work best when they're well-lit. During your kitchen renovation, look for ways to integrate this idea. The less artificial light needed to fill the kitchen during the day, the better. But this doesn't mean forgetting proper lighting altogether. One of the key principles of transitional kitchens is that they should be functional too. Be sure to properly light areas in the kitchen where most of the work will be done. 
Nowadays, people also choose to entertain guests or dine in the kitchen. This means the areas used for dining and entertainment should also be considered. Pay attention to the placement of your lights and ensure they are not creating shadows in random spots. 
Know What Materials to Work With
In a home remodel, one of the most important things to take note of is the materials that will be used. To nail the look of a transitional kitchen, choose materials such as quartz, granite, marble, or wood for your countertops. Wood flooring and cabinetry are also common in transitional kitchens. They can make your kitchen look clean and sophisticated at the same time. Brass can also be a good option if you want to add a more rustic feel to the ensemble. When it comes to appliances, opt for steel appliances. 
Let's Talk About Your Bathroom Remodel
If you're searching online for a "contractor near me"  for your kitchen renovation plans, DreamMaker Bath & Kitchen has got you covered. Our kitchen remodel team is committed to providing the highest quality of workmanship and customer service in every project that we do. To get in touch with an experienced bathroom contractor, use our "Location Finder" to get in contact with the closest DreamMaker team to you.