---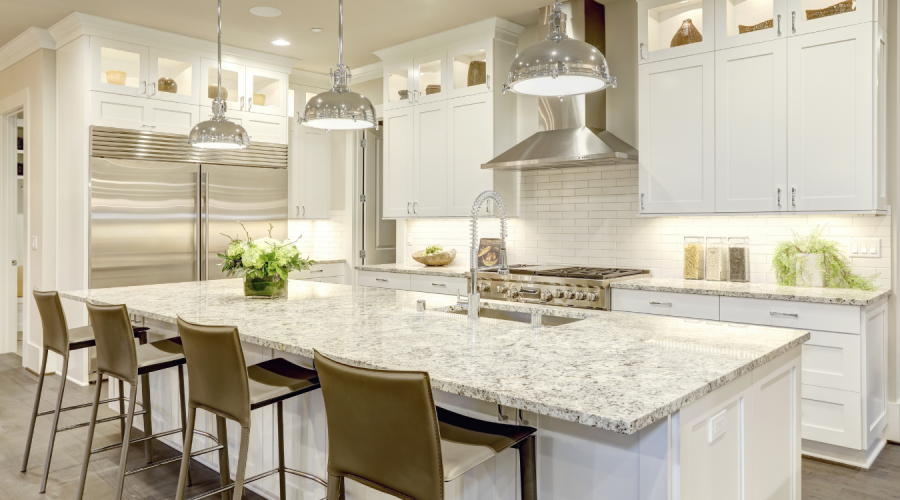 ---
Contemporary kitchens are known for their clean and simple aesthetics. If you want to give the heart of your home a makeover, this style will give it a fresh look. A trusted home renovator shares tips to help you create a beautiful contemporary kitchen. 
1) Contemporary Features –
Simple With Minimal Adornments
Usually, contemporary kitchens have a minimalist design with geometric themes. This style often uses asymmetrical balance in kitchen decor. Molding and cabinets are simple with only minimal adornment.  
2) Manmade Materials
Another trademark of contemporary kitchens is the use of manmade materials such as chrome, plastic, linoleum, laminate, acrylic, concrete, glass and molded plywood. However, you can still use touches of natural materials to prevent your kitchen from looking too industrial. Slate, wood and granite are among the most popular natural materials used in contemporary spaces. 
3) Stone Countertops & Decorative Backsplashes
A contemporary kitchen will not be complete without the right countertops. Some of the most popular options for this style are marble, granite, butt quartz and recycled glass. If you wish to achieve a contemporary rustic kitchen, wood butcher block countertops are a great alternative.
Over the years, laminate counters have gained more popularity due to significant improvements. Thanks to modern technology, this material is more durable and available in a wide range of hues and designs. You can go creative with your backsplash by using tumbled stone slate, glass mosaic tiles and different ceramic tiles. 
4) Rectangular & Square-Shaped Cabinets
Cabinets in contemporary kitchens are usually rectangular or square in shape, with slab-front doors. These doors are flat and lack embellishments or recessed panels. Contemporary kitchen cabinets often reach the ceiling to maximize storage space. You can break up a massive wall of cabinets by using upper cabinets with glass doors. Another option is to utilize open shelving. A skilled kitchen remodeler can help you create the best storage solutions for your space. 
5) Kitchen Islands & Bars
An island is a must-have feature if you have the space for it in your kitchen. You can go for a different color for the island to add a pop of color to the room. A breakfast bar may be included in the design of your island. You can also make it a part of the cabinetry that divides the kitchen area from the dining room. 
In search of a "kitchen remodeler near me?" At DreamMaker Bath & Kitchen, we are passionate about helping you design and create attractive, functional and user-friendly spaces. Locate one of our trusted and experienced Locations Near You.