---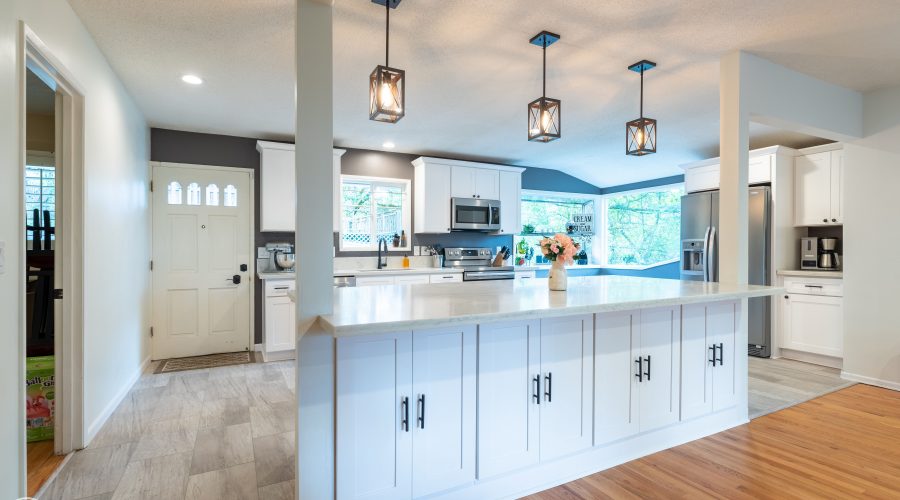 ---
Whether it's enjoying a Sunday breakfast or hosting a family dinner, your kitchen is likely the backdrop for some of your most precious memories. Don't let flimsy kitchen cabinets, lack of storage, and/or an undesirable floor plan hold you back from having family fun in the kitchen.
At DreamMaker, we understand that the kitchen plays an important role in your family's quality of life, and we are dedicated to work with you to create a space that will add functionality and style to your home. 
For many of our clients, considering a kitchen remodel initially seems not only exciting, but also a little intimidating. Will I hire the right contractor? Will I have someone who will help me in design? Will I make the right product selection decisions? 
At DreamMaker, we understand these concerns and guide our clients through each step of the process. Our full-service remodeling approach gives you dedicated support in design, product selection and construction. Throughout your remodel, you can feel confident that your project will be completed in the most efficient and safe manner possible with minimal disruption to your life. 
In case you didn't know, it is always our goal to uphold our company Code of Values™. Our team operates on these well-established and written Code of Values that are expressed through treating all customers with the utmost respect and showing a dedication to superior craftsmanship and ethical excellence. Your kitchen renovation might be our job, but we never forget that it's your home.
No matter what vision you have for your kitchen remodel, DreamMaker will work carefully to guide you through each step of the remodeling process and ensure that the end result is a design that enhances your life and improves your home. Learn more about DreamMaker Kitchen Remodels and start your conversation here today.