---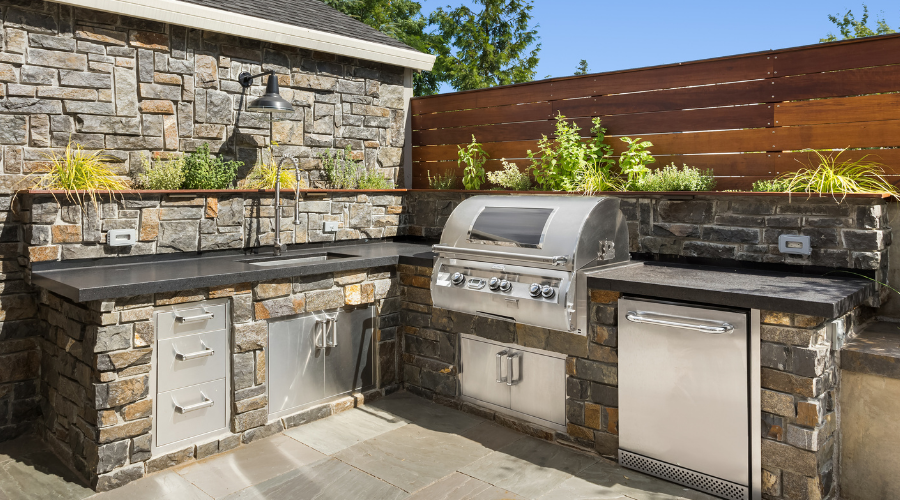 ---
Cooking outdoors is a different experience than cooking inside a contemporary kitchen. There are a lot of details that you should pay attention to create a great outdoor kitchen for you and your family to enjoy. In this post, a top kitchen and home remodeling expert, DreamMaker Bath & Kitchen, shares how you can create the ultimate outdoor kitchen.
Outdoor Kitchen Essentials
First things first: you'll have to think about what you're going to prepare when planning your outdoor kitchen. Do you and your family enjoy grilling steaks regularly? If so, a built-in gas grill is a must. Do you love slow-cooking ribs over charcoal? You can't go wrong with a kamado grill or a smoker. If you enjoy Italian delicacies such as pizzas and pasta, you'll definitely need a pizza oven and a pasta roller. Don't forget to plan for ventilation by installing an overhead vent hood and island vent panels.
The Advanced Outdoor Kitchen
You may want to add more features to your outdoor kitchen remodeling project to fit your evolving needs. Aside from the essentials, you might need a robust griddle to cook meals in. Also, you may find that you need an ice maker for desserts and cold platters. This kind of outdoor kitchen gives you more convenience and increases your culinary capabilities.
The Ultimate Outdoor Kitchen
If you're aiming for the best outdoor kitchen, you'll have to factor in how you'll be entertaining your guests. Outdoor kitchens can serve small gatherings of up to 10 people or very large groups. It helps to increase your storage space as your outdoor kitchen grows. You may want to add vanity fixtures such as an outdoor TV, outdoor fans, patio heaters and a fire pit to enhance the vibe.
Let's Start a Conversation!
Searching for the top home remodeling specialist for your future renovation projects? DreamMaker Bath & Kitchen is ready to help. To get started with a no-obligation consultation, by filling out a form online.