---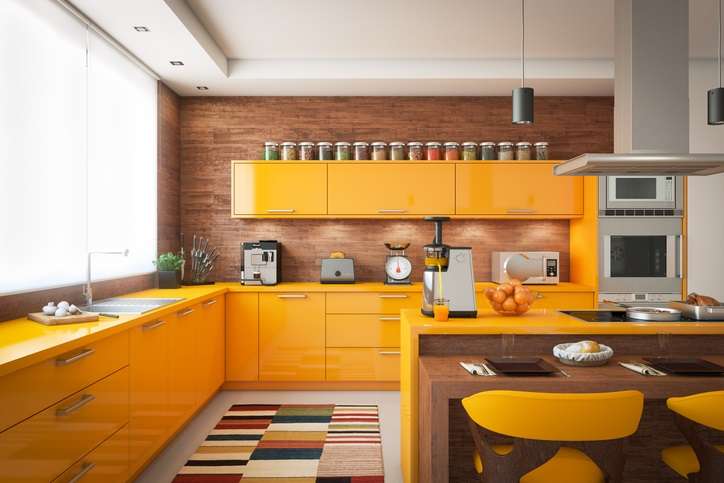 ---
While some may think that building codes are arbitrary, they aren't. In fact, these rules are carefully crafted to ensure safety, and use logic to address real-world problems. This is especially true in kitchens. If you're in the market for traditional kitchen remodeling, it's a great idea to learn a little about the differences between building codes and design best practices.
Building Codes in the Kitchen
The typical kitchen measures about 200 square feet — which isn't much space in which to cram gas and electrical service, a water supply, sewer lines and everything else including the kitchen sink. It's no wonder that space planning involves taking a lot of building codes into account.
However, many common design practices don't involve code but rather use common sense. A sensible way to plan an efficient kitchen, for instance, is to use an open floor plan between your kitchen, living room and dining room so that it becomes one big space. However, for the kitchen entryway, code requires a minimum width of 32 inches. If you decide to have doors installed at the entryways, they should never interfere with kitchen appliances or vice versa.
Designing for Workflow
To manage workflow properly, there are some basic design rules you should follow, especially within the kitchen triangle — the space that encompasses the cooking area (stove and oven), sink and refrigerator. It is critical that the paths between these three points remain unimpeded to prevent accidents and make for an easy cooking experience.
The first rule is to limit the distance between all three legs of the triangle to a total of not more than 26 feet. There are other similar rules relevant to work and walkway aisles. There are also recommended lengths, widths and heights and measurements for the overall space planning and design of countertops to ensure they abide by codes as well as good design practices.
Let's Start a Conversation
DreamMaker Bath & Kitchen is dedicated to superior craftsmanship and ethical excellence. We complete our projects in the most efficient manner possible so our customers can enjoy the benefits of their new remodel as soon as possible. To learn more about our services and products, contact the location nearest you today.