---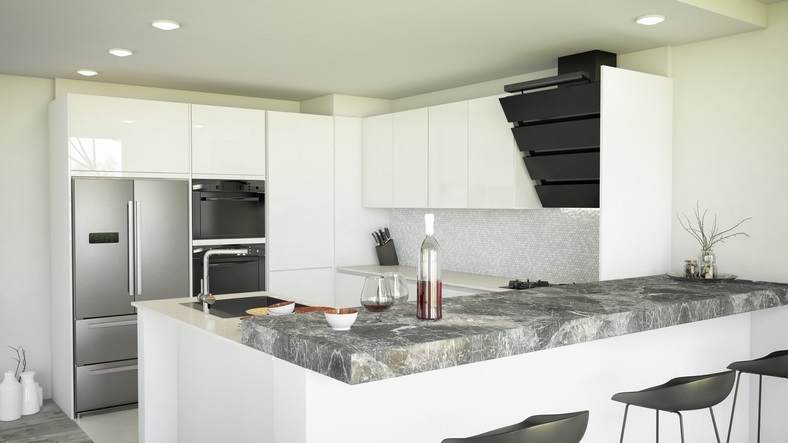 ---
Kitchen remodeling contractors all agree that planning a kitchen involves a lot of thought — particularly when it comes to ensuring proper measurements to provide sufficient workspace. Guidelines developed by the National Kitchen and Bath Association offer a few suggestions as a solution to this dilemma.
Sizing Countertops
At least 158 inches is considered by the NKBA to be just the right amount of countertop frontage to allow for unhampered food preparation and storage of small appliances and utensils. If you'd like to add a small bar area, you'll need even more space. Counters should be a minimum of 24 inches deep. Altogether, this will give you just a little over 26 square feet of workspace. Additionally, you should allow at least 15 inches of vertical space between your countertop and the upper cabinets.
Make the most of your countertop space by designing for proper workflow. For instance, allow for 36 inches of continuous frontage next to the sink for food preparation and cooking tasks. Alternatively, you can adjust the area next to the sink to 24 inches of frontage on one side and 18 inches on the other. A peninsula placed three inches from your sink can also count as additional frontage.
Sizing a Bar
A countertop peninsula or bar needs to have enough space for dinnerware. Additionally, each guest needs at least 24 inches of countertop frontage to sit comfortably, while the proper depth will range from 12 to 18 inches, depending your counter's height.
It may be difficult to function well with limited counter space, but an enormous kitchen with too much space between work centers won't work well either. The sink, refrigerator and cooktop, which are the three major work stations in your kitchen, make up the three points of the kitchen work triangle. For maximum efficiency, the three sides of the triangle should total a maximum of 26 feet.
Design Your Dream Kitchen With DreamMaker
DreamMaker Bath & Kitchen specializes in kitchen renovation and other remodeling projects and services. We have transformed countless kitchens to date, and we are confident we can breathe new life into your kitchen too. Find your location today to start a conversation!