---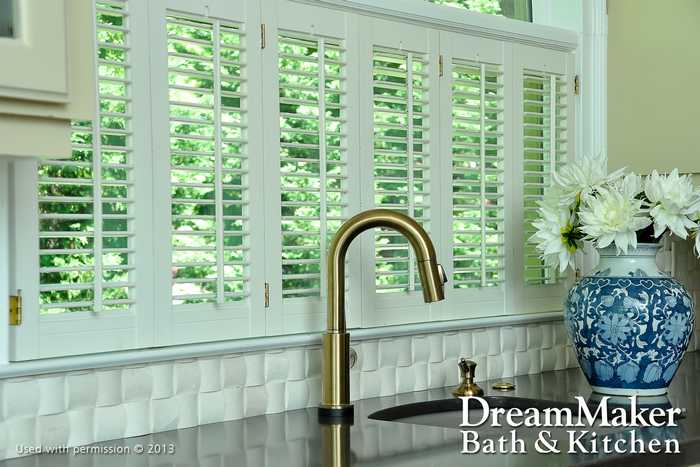 ---
Stainless steel is a common favorite among homeowners. We understand the appeal; stainless steel looks pristine, shiny, and clean. However, there are a variety of other metal finishes for the kitchen. Feel free to mix and match the different metals for a rich and diverse kitchen backdrop. We'll outline some of the metal finish types and the possible combinations.
Types of Metal Finishes
Copper Pendant Lights:  We like the look of pendant lights, and a copper finish complements nicely with most backsplashes.
Oil-Rubbed Bronze Knobs and Pulls:  For drawer and cabinet handles, we like an oil-rubbed bronze finish. This metal is sprayed with a dark coating to simulate the look of aged bronze.
Yellow Brass Nickel Faucets:  For the faucet and other related fixtures, consider yellow brass nickel. This is the type of surface finish that you see in a saxophone or trombone.
These are just a handful of finishes available; be open to other combinations. Perhaps you may prefer oil-rubbed bronze for the pendant lights instead, or yellow brass for the cabinet handles.
Metal Finish Combinations
Certain metal finishes go better with certain types of backdrops. Here are some of our suggestions, but feel free to experiment.
Copper pendant lights with stainless steel fridge and stove
Oil-rubbed bronze drawer handles with white or walnut cabinet doors
Yellow brass nickel faucets with dark quartz countertop
Nickel pendant lights directly above a black-painted island
These remodeling tips represent just the tip of the iceberg. Explore other possibilities to find what best complements your existing or planned kitchen design.
Our Remodeling Professionals Can Help You Incorporate the Ideal Mixed Metal Finish Combinations
Envision what kind of combination will work best for your type of kitchen. Once you have an idea in mind, contact DreamMaker to schedule your free consultation. Metal finishes for the kitchen represent one more way of adding variety to your remodeling plan.