---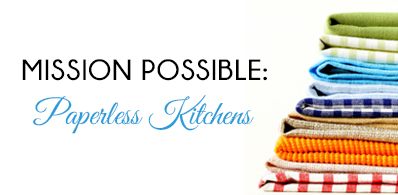 ---
Do you find yourself constantly adding "paper towels" to your grocery list? Didn't you just buy a 12-pack at your local warehouse retail store? Growing up, it would drive my mother insane when we kids would use paper towels. When drying our hands, we'd tear off two or three paper towels from the roll. A spill on the floor? You don't want to know! She thought buying the smaller cut paper towels would incline us to use fewer; they didn't. With little hands and big messes, paper towels and napkins are always the first things to go.
Maybe it's time to ditch the paper products in the kitchen all together! Here are four reasons to go paperless in the kitchen:
Less Cost – Look at your receipts and see just how much you're spending on paper towels every time you run to the store.
Less Waste – no more using half a roll to clean up a kitchen spill, especially when cloths can be rinsed and reused on the same mess.
Space Saver – stop cramming all those rolls into pantry and cabinet spaces.
Be Green – make yourself, and your family feel better about cutting back on paper products. When cloths get crummy, they make great car wash/outdoor/cleaning rags.
Going Paperless:
First thing first, get the whole house on board. Stop buying paper towels and paper napkins, take the paper towel holder off the counter and make sure the family knows what's going on. Realistically, you should keep a few rolls of paper towels around for emergencies, but don't store them in the kitchen. Using cloth napkins with the kids is a simple way to teach dinner etiquette by placing napkins in their laps, instead of crumpling a paper towel on the table. Additionally, add "fold kitchen cloths" to the chore chart.
Gathering Cloths:
Cloth napkins – Now you don't need to break out the five-star restaurant napkins when it's sloppy joe night. However, cloth napkins come in a variety of sizes and materials for everyday use. Plenty of stores have them on sale, or clearance, especially after a major holiday or in between season. Collect different colors and patterns, mix and match for different color schemes to go with events or your kitchen color pallet. Get creative!
Make your own reusable paper towels – Diaper cloth, or Birdseye cloth, can be purchased at any fabric store, and at a reasonable price! Cut the cloth into equal sized pieces, and store in a basket by the kitchen sink to use as hand-drying towels. If you have a seamstress in the family, serge the edges with colorful thread.
Separate towels for dish-drying and hand-drying purposes.
Storing Your Cloths:
In plain sight – Store clean towels in a decorative kitchen jar: a glass cookie jar, a flour canister Roll them pretty. Not only will they be decorative, but they will spark interest and conversation about your paperless movement.
Designate a cloth drawer to store all your cloths. For seasonal decorations, use a plastic storage bin to keep cloths sealed off from dust (and to save space).
Used cloth bin – keep a hamper or basket in your pantry or under the sink for used cloths. This will be easy to transport it to the laundry room, and it will be in convenient location.
Speaking of laundry, the idea of doing additional loads may deter you from going paperless. Consider washing all your used cloths together, in one load once a week, or even every two? Developing a process with help with the laundry as well.
Going paperless doesn't happen overnight, but taking small steps will help the transition. Once you've created a system that works for you and your family, it will be a convenient and cost-efficient change that you (and your wallet) will appreciate. And while you may not go completely paperless, every little bit helps!
Category: Kitchen
Tags: green kitchen paperless remodel