---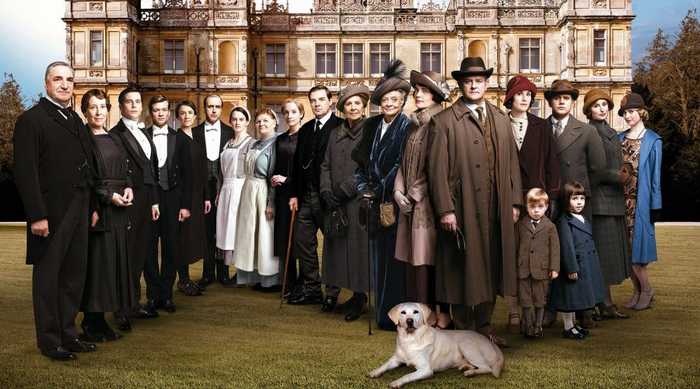 ---
Downton Abbey started its sixth season recently, and its American viewers are decorating "Downton" style more than ever. Downton Abbey, Season 5" by Masterpiece™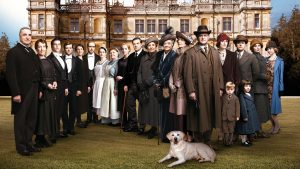 The popular BBC television show, Downton Abbey, recently began its sixth season. It first aired in 2010 and after the phenomenon swept across the Atlantic Ocean, Americans soon began to decorate their homes in "Downton fashion." In this period drama, the audience becomes a voyeur into the life of the Crawley family during the early 1900s.
The setting is a large Jacobethan country home that sits on a 5,000-acre estate. Filmed at Highclere Castle in Hampshire, England, the furnishings reflect a period of grandeur full of sweeping staircases, rich pigment paints, grand dining rooms, ornate furnishings and heritage paintings.
Rather than breaking the bank to achieve the Edwardian style of the aristocracy, here are a few ways to bring Downton (a.k.a. Highclere Castle) home.
Brocade, Jacquard & Damask: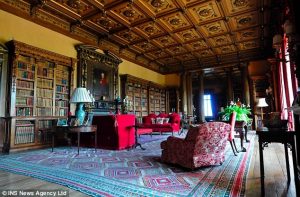 Rugs, ceiling medallions and brocade, and damask wallpaper and fabric patterns relect the "Downton Abbey" style.
The brocade, jacquard and damask patterns can be found on wallpapers and fabrics. When using these ornate fabrics, you can make curtains, reupholster furniture or just apply them to home décor accessories such as: table lamps or wall art. They come in numerous patterns, mainly flowers, fruit and other designs, and many different colors. There should be one that works with your color scheme or style.
Molding and Ceiling Medallions:
Don't leave out your ceilings! A lot can be done to them for a low price. Molding comes in many different styles. They range from simple molding with corner curves to deep, boxy, angular ceilings with rosettes and other carved motifs. To get this same look for a budget, use embossed wallpaper on ceilings installed within an inset formed by a small molding applied to the ceiling 12- 18" from the perimeter walls. Paint the textured wallpaper in a semi-gloss or gloss paint, giving it the effect of formed plaster. Add ceiling medallions to your chandeliers and other surface mount fixtures to create a beautiful effect to an otherwise plain ceiling. By adding creative and artistic patterns to your ceilings, it creates depth and acts as a "rug" for the ceiling. We will get to floor rugs in a bit.
Petite Chandeliers:
Chandeliers come in many different shapes and sizes and will add a grand aesthetic with very little effort. A small one is economical when it comes to creating an Edwardian style within a budget. These miniature chandeliers are perfect for entry ways, on tables and in bathrooms; adding a little sparkle wherever they are placed. They can be found for a decent price in thrift stores, antique malls and other home improvement stores. If your budget allows, go for the big chandeliers. They are breathtaking.
Gold (or any other metallic) Acrylic Paint:
This stuff works miracles when dealing with a budget. Go for an antiqued gold rather than a bright gold because most of the furnishings in Downton are antiques and gilded with gold. Add this to wall sconces, lamp bases, ornate frames and just about anything else to add a little luxury into the décor for pennies on the dollar.
Richly Pigmented Paint:
Choosing colors from the color scheme of Downton is now easier than ever because Kelly Moore has created a line of paint that specifically resembles the colors of Highclere Castle. They range from jewel tones to pastels. If you choose not to buy from that line, choose a paint with a rich pigmented color. Pigment rich color's characteristics are highly concentrated, bright and rich.
Tassels:
Tassels are an easy way to give a sense of luxury to a room. Use them to wrap up your new brocade, jacquard or damask curtains and hold them back to allow light into your home. They can also be added to pillows, blankets and lamps. Tassels come in a range of sizes and colors that can easily be incorporated into your Edwardian facelift.
Antiques:
When searching for antiques to fit the "Downton" style, go for either French or English ones. Look for paintings that show hunting scenes or a pair of ornately carved, mirrored sconces. Keep an eye out for large mirrors in gilded or dark-stained frames. There are many different pieces that are unique to the Edwardian time period and can be found in antique malls across the nation and world. Who knows what great deals you may stumble upon with a little searching.
Oriental & Persian Rugs:
Oriental and Persian Rugs add wonderful texture and color to any room. They come in a plethora of colors and patterns with patterns of flora and fauna. The rugs come in a multitude of sizes ranging from pillow to very large. The price range varies, and there are lots of places that offer them for a discount. Pick up a runner or average-shaped rugs and place them in a hall or in the living room. The options are limitless.
If you really get in a bind or need creative inspiration, the creators of Downton Abbey just launched their home furnishing line. The prices are reasonable and are perfect to incorporate into your rooms.
Then when you settle in to watch the latest season of Downton Abbey, you can do so in Downton luxury.
Category: Decorate
Tags: antiques brocade carved molding chandeliers damask patterns Downton Abbey Edwardian embossed wallpaper Highclere Castle Jacobethan jacquard motifs oriental rugs Persian rugs