---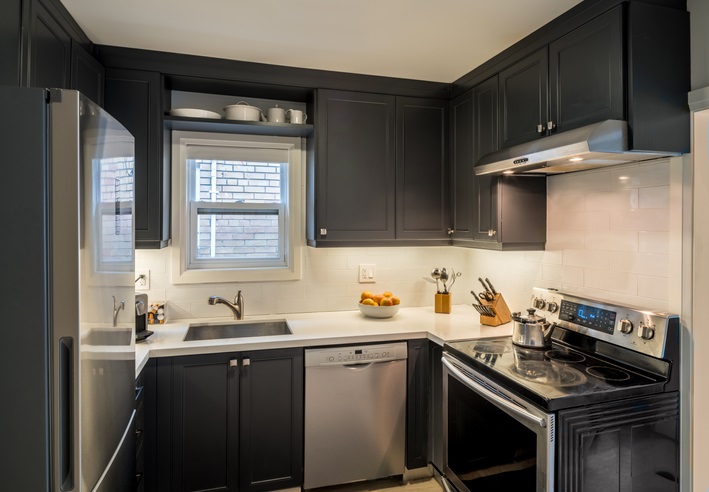 ---
Kitchen cabinets play an important role in keeping a household organized, so that a home can look its best. Unfortunately, kitchen remodeling contractors know that because cabinets are located right where some of the messiest work in the home is done, they can suffer the effects of grease, food spills and moisture. Keeping the insides of cabinets clean is easier if you use liners to help keep dirt and grime in check.
Cabinet Hardware
Cabinet hardware often attracts grime like no other area. Dirt buildup, however, can be easily wiped off. Giving your cabinet knobs and handles a regular wipe with mild dishwashing liquid and water can quickly clean things up.
If you need to remove tough grime, it's best to unscrew and remove the hardware, soak it for 30 minutes in warm, soapy water, then scrub lightly with a soft brush. Wipe down your cabinets while waiting for the hardware to dry completely, then reinstall. Use one part white vinegar mixed with one part warm water to wipe glass-front cabinets; don't use abrasive cleaning tools or sponges that can scratch or dull the cabinet finish.
Cabinet Exteriors
Use a soft, damp microfiber cloth or sponge to wipe down cabinets with a mixture of mild dishwashing liquid in warm water. Try an undiluted all-purpose cleaner for more stubborn stains. To finish off, dry with a clean, absorbent cloth to prevent streaking.
Cabinet Interiors
To clean the insides of cabinets, remove contents and wipe interior surfaces with the same mild dishwashing liquid solution mentioned above. Follow with a good wipedown with a clean, damp cloth before drying completely with a clean, absorbent cloth. Add clean liners and return the contents.
For specific care guidelines for cabinets, look to the experts at DreamMaker Bath & Kitchen of Wooster. We have experienced in-house designers who can help you with kitchen remodeling and maintenance tips, and will incorporate your design plans into your home seamlessly. Just call us at (801) 203-3307 or submit our contact form to schedule a consultation.