---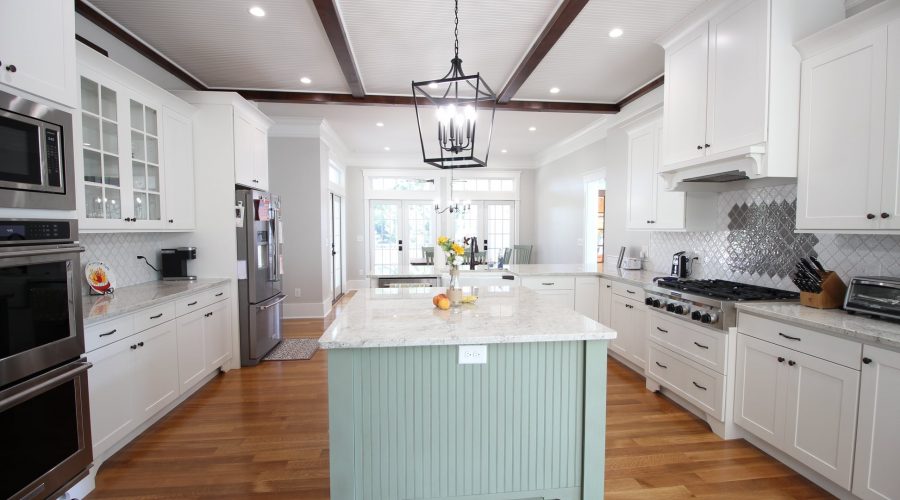 ---
As one of the busiest places in the home, kitchens benefit from additional counter space and, if your floor plan allows it, installing a kitchen island is a great way to go about getting that. An island is multi-functional and can provide space for food prep, homework help, and game night – sometimes all at once! Islands can come in all shapes and sizes, and can be tailored to your taste. Here are some features that give them even more functionality.
1. A Second Sink
Leave dirty dishes, pots and pans in a bigger sink on an opposite counter and dedicate your second sink to washing produce for cooking. This is perhaps one of the most underrated ways to improve efficiency in your kitchen.
2. Drawers, Shelves, Cabinets & Hooks
Add ample storage space to your kitchen island. Drawers and cabinets can offer convenient storage for cutlery and other small items. Shelves can be used to hold small appliances that are not regularly used. With hooks added to a pot rack, the space above the island can hold pans and other cookware.
3. Move the Microwave
Relocating the microwave to your kitchen island frees up precious countertop or wall space in your kitchen. Positioning it lower in the island is also a great way to increase accessibility for children and those who have mobility issues.
4. Beverage Chiller
Keep drinks handy and cool by installing a small chiller refrigerator in the kitchen island. As with the microwave, having a chiller lower to the ground improves accessibility, especially if you often have a lot of people in the kitchen while you're preparing food.
5. Stovetop
Talk to your kitchen contractor about moving your stove to your kitchen island. This can help streamline your work process in the kitchen. Adding a stovetop to the island may also require a hood above to help lessen smoke and moisture indoors. The island is also an ideal place to create a hibachi-style cooking range, if you are so inclined.
6. More Seating
Hibachi-style cooking is not the same without additional seating in front of the stovetop. If this is not your cup of tea, the additional seating and counter space is still useful as a casual dining area. It can also provide a place for the kids to sit and do homework while dinner is being prepared!
Let's Start a Conversation!
Get the most out of your kitchen island with the help of our professionals at DreamMaker Bath & Kitchen, your trusted kitchen remodeler. Contact us today, or visit our locations page to find a DreamMaker in your neighborhood.