---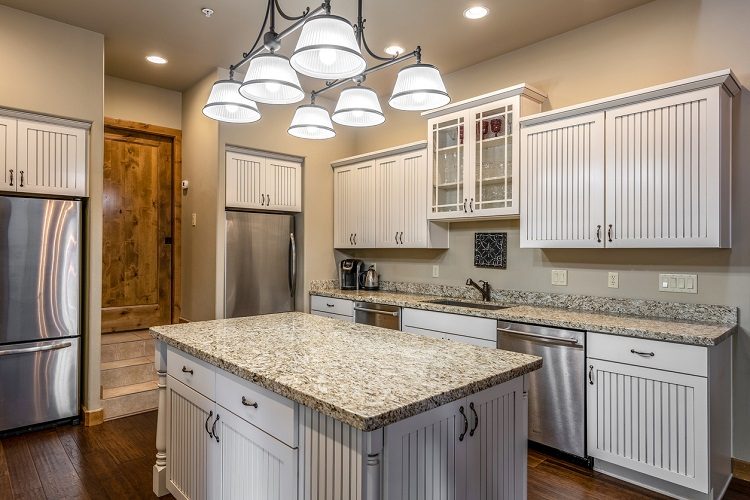 ---
The height and width of kitchen countertops is not something that's dictated by building codes. Rather, you and your kitchen contractor will rely primarily on the design standards established by the industry to help determine the most comfortable and practical dimensions for such elements as cabinets, countertops, windows and doors.
Countertop Height Standards
The established standard is for the top of your countertops to fall about 36 inches above the floor — which is considered to be the best ergonomic height for a kitchen countertop. This measurement is based on the most comfortable height at which the majority of tasks can be done in the kitchen for a user of average height. This means a kitchen countertop height of three feet will generally provide a comfortable working space for people 5 feet 3 inches to 5 feet 8 inches in height.
Countertop Width Standards
Most homes are fitted with kitchen countertops that measure 25.5 inches in width (from the wall to the edge of the counter), with some measuring up to 28 inches. Standard measurements allow for a 1.5-inch overhang over 24-inch deep base cabinets.
Kitchen Islands
Meanwhile, kitchen islands are typically equipped with standard 24-inch to 25.5-inch counters, but can support 27-inch and 36-inch countertops for more workspace. If you're so inclined, you can even double the standard countertop space and splurge on an extra-deep 48-inch island countertop.
Let's Start a Conversation
Want to finally have that dream kitchen of yours come to life? Let DreamMaker Bath & Kitchen turn your dreams into reality! Find the location nearest you to start a conversation today.