---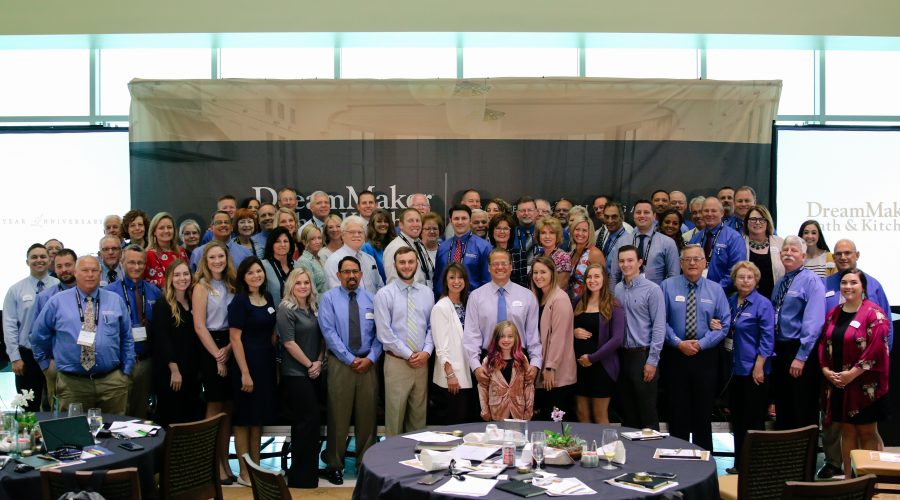 ---
DreamMaker Bath & Kitchen has been named the 6th largest national home improvement company in the country by Qualified Remodeler magazine in their top 500 list for 2019. The Qualified Remodeler Top 500 has been the gold standard for the home remodeling industry for 40 years.
"We are honored to receive this distinction," said DreamMaker President Doug Dwyer. "This comes at a great time for our brand and franchisees, thanks to growing average unit sales, award-winning franchisee satisfaction, and the ongoing rollout of our ambitious vision for accelerated growth."
No stranger to awards, the franchise has won a number of them as one of the top franchise opportunities as measured by franchisee satisfaction. DreamMaker has received 15 GuildMaster Awards and several Remodeling Big 50 Awards, and was recognized as a Franchise Business Review 2019 Top 50 franchise by both franchisee satisfaction and franchise innovation
"Whether they're experienced remodelers converting an existing business or changing careers after corporate life, our franchisees love the emphasis we place on helping them earn better margins on their work than a typical remodeling contractor," says Dwyer. "With our large franchise network, the DreamMaker team and their fellow franchisees comprise a family built on shared values and a mutual commitment to growth."
DreamMaker is one of the nation's most successful home remodeling franchises, with earnings consistently outpacing national averages. All franchise owners and their employees adhere to the company's Code of Values, which emphasizes honesty and integrity while creating an excellent customer experience.
"This means that we conduct our business completely above-board," says Dwyer. "For us it's not about seeing how quickly we can get someone to sign a contract and finish a job, we set expectations and live up to them. Our ongoing success is based on putting people first.
About DreamMaker Bath & Kitchen
For 20 years, DreamMaker Bath & Kitchen has strived to deliver excellent customer service through kitchen, bath and interior remodeling. DreamMaker's focus is honesty – to treat people with respect and integrity. Over the last two decades, this focus has built the franchise company a reputation for serving clients through honesty and superior craftsmanship which has earned them a 96% recommendation rate from customers submitted by its franchisees. In addition to client satisfaction, DreamMaker Bath & Kitchen has been rated as a Top 50 Franchise brand in Franchisee Satisfaction by Franchise Business Review six years in a row. Based in Waco, Texas, DreamMaker Bath & Kitchen has 36 independently owned and operated franchises in 22 states.
To keep up with what's happening at DreamMaker, like us on Facebook, follow us on Twitter, or follow us on Instagram.