---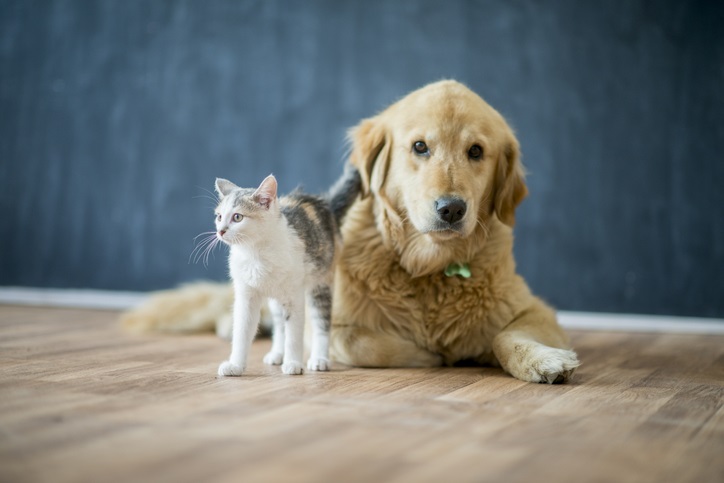 ---
When you're a pet owner, one of the most often considered home remodels is looking for and installing pet-friendly flooring. But how do you know what to look for?  Pet owners would easily answer: resistance to scratches and damage, pet traction and pet comfort. All These are the most important qualities to keep in mind as you shop around for different flooring options.
One of the biggest concerns pet owners need to look out for when it comes to flooring is user-friendliness: for instance cat and dogs' nails can cause significant permanent damage to some flooring options. Besides, flooring materials need to be durable, easy to clean and more resistant to urine damage.
Hardwood
Hardwood lends a clean and classic to flooring. Whether made from cherry, maple, hickory, walnut, mahogany, sycamore, or bamboo, hardwoods are appreciated for their ability to resist scratches from a dog's nails, among other things. Modern sealers as well as polyurethane finishes available today make hardwoods among the durable and long-lasting choices for pet-friendly flooring.
Bamboo
Bamboo is yet another material that is gaining popularity. It's an organic substance, and although it is not technically a wood, it does boast a natural hardness, as well as stain and scratch resistance. The other pluses of bamboo include the ability to withstand high traffic and resistance to stains and wear and tear. It is also eco-friendly, although rather expensive.
Vinyl
Much more affordable than other pet-friendly options, vinyl comes in a wide variety of designs. It's great in terms of offering traction for your pet buddies, and doesn't compromise on style. Vinyl is a material that helps keep allergen levels low and is quiet underfoot. It does, however, dull more quickly than other options.
This week may be Take Your Pet to Work Week, but sometimes our precious companions have to stay at home. To learn more about which flooring option is right for you, visit our locations page and start a conversation with your local DreamMaker today.