---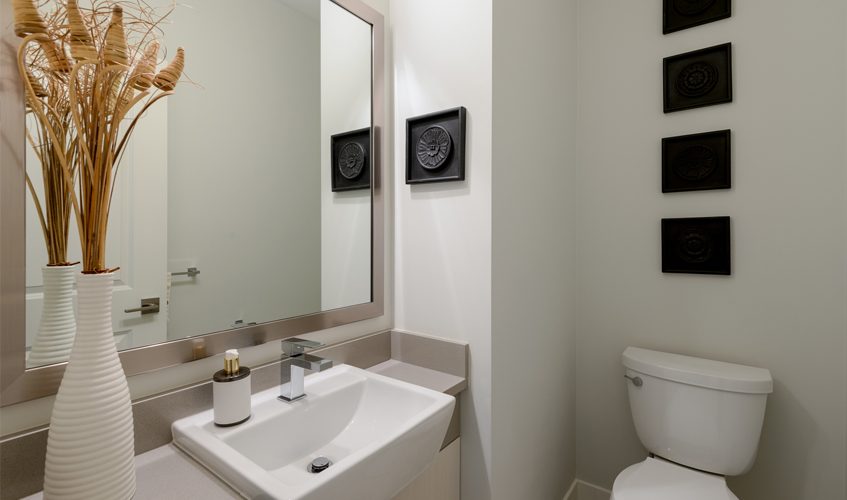 ---
A powder room is a great addition, especially for homeowners who frequently invite guests over. A powder room is essentially the same as a half bathroom, or a bathroom with only a toilet and vanity. Read on for some of our favorite design ideas for beautifying this miniature room.
One of the upsides to designing and decorating a powder room is that you have more leeway than a traditional bathroom. This is because powder rooms don't have a shower, which means no concerns about moisture. You can, for instance, add a rug or store paperbacks and magazines.

Powder Room Design Ideas:
1. Incorporate a Lot of Brass
Be liberal with the use of brass. The polished surface really stands out in a small space. Brass especially helps the room stand out with a neutral colored vanity. Consider brass for the faucet, towel bar, and towel ring.
2. Colorful Wallpaper
No need to worry about wallpaper peeling because of moisture. We recommend bright-colored paper, perhaps with a watercolor wash. If you find this design too bold, then consider using it for the accent wall. Colorful wallpaper has an especially sophisticated look when you pair it with a marble vanity.
3. The Farmhouse Look
A dark blue bead board provides that cottage appearance. Bead boards naturally exude that countryside look, while the dark blue provides a bold backdrop. Pair this with a white and distressed vanity.
4. The Bohemian Style
Bohemian is very chic. Keep the look simple with a minimalist design. Consider a pedestal sink. Keep storage out in the open with wicker or handwoven baskets.
If you're interested in updating or adding a powder room in your home, contact us today!
Find a DreamMaker location near you.