---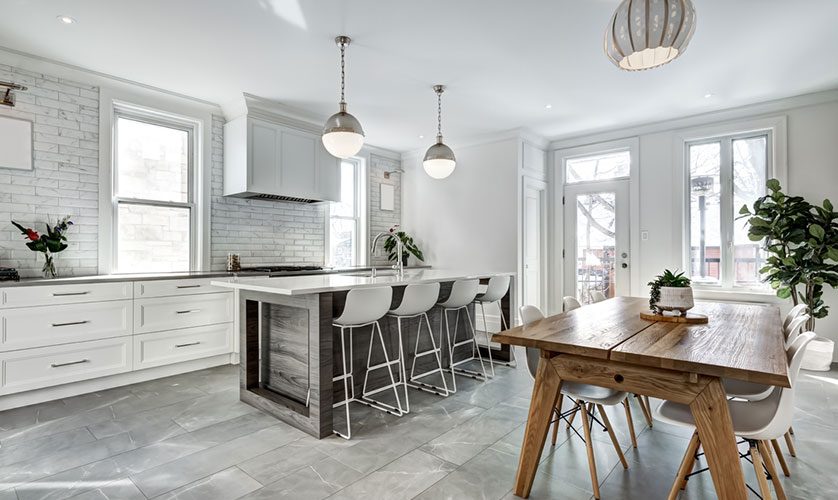 ---
Designing an eat-in kitchen is a wonderful way to create a functional and inviting space that serves as the heart of your home. It allows you to combine cooking, dining and socializing seamlessly. In this article, a trusted kitchen remodeler near you shares how to set up an eat-in kitchen for maximum functionality and aesthetic appeal.
Designing an Eat-in Kitchen
Here are some ideas to consider when designing your eat-in kitchen.
Breakfast Nook: Create a cozy nook with a built-in or freestanding dining bench, paired with a small table and chairs. This setup is perfect for quick breakfasts and casual meals. To maximize comfort, add plush cushions and throw pillows.
Island or Peninsula: Incorporate a dining counter as an extension of your kitchen island or peninsula. This allows for a more informal dining experience while keeping the cooking and dining areas connected. Stools or counter-height chairs can be used here.
Banquette Seating: Install a built-in banquette along one wall of your kitchen, paired with a table and chairs. Banquettes provide ample seating and storage underneath the benches. This setup encourages a communal dining experience.
Bar-Height Table: If you have limited space, consider a bar-height table with stools. This arrangement takes up minimal floor space and creates a casual and inviting atmosphere for meals and conversations.
Open-Concept Layout: In open-concept homes, you can seamlessly integrate the kitchen with the dining area. Use a dining table and chairs that complement your kitchen's style to create a cohesive look throughout the space.
Fold-Down Table: Install a fold-down table on a wall in your kitchen. When not in use, it can be folded up to save space. This is an excellent option for compact kitchens where every inch matters.
Window Nook: Utilize a bay window or alcove by adding a small dining table and chairs. This setup offers a charming and cozy dining experience with plenty of natural light.
Portable Kitchen Cart: For maximum flexibility, invest in a portable kitchen cart with a drop-leaf table. You can move it around as needed and expand the table when you have guests over.
Convertible Furniture: Consider investing in convertible dining furniture, such as a table that can extend to accommodate more diners or folding chairs that can be stored when not in use.
Let's Start a Conversation!
Before you start your remodel, it's a good idea to get a kitchen quote. More importantly, find a reliable contractor with a proven track record to bring your vision to life. Call DreamMaker Bath & Kitchen of Ogden at (801) 614-7263 or send us a message to request a kitchen estimate. We serve homeowners in West Point, West Haven, Pleasant View, Farr West, Tooele, Woods Cross, Washington Terrace and surrounding areas.