---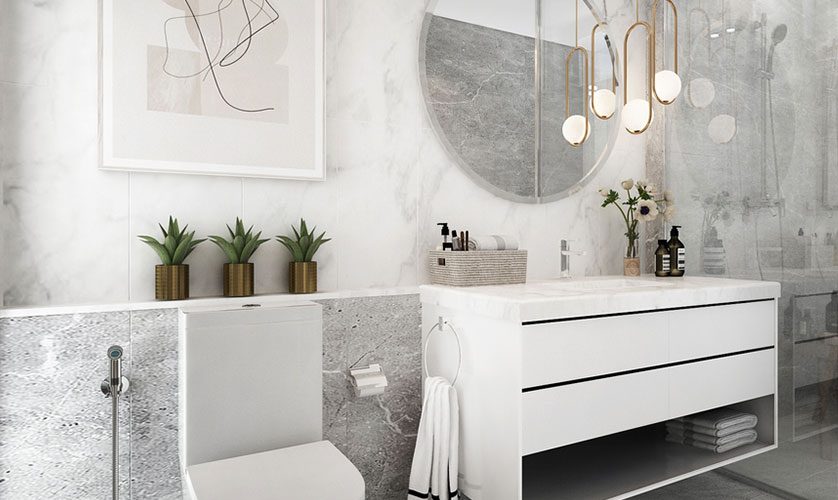 ---
Remodeling a guest bathroom is an excellent opportunity to make a lasting impression on your visitors while also enhancing the functionality of the space. Here are seven tips from a professional bathroom remodeler to help you create a guest bathroom that wows.
1. Choose Timeless Materials
Opt for durable, timeless materials for your bathroom fixtures and surfaces. Classic options like white subway tiles, marble countertops and chrome fixtures never go out of style. They can maintain their appeal over the years.
2. Maximize Storage
Adequate storage is essential in a guest bathroom. A bathroom contractor can add built-in shelves, a vanity with drawers or even a linen closet. Well-organized storage keeps the bathroom clutter-free and guest-ready.
3. Install Quality Fixtures
Invest in high-quality fixtures like faucets, showerheads and toilet hardware. These elements not only add a touch of luxury but also ensure durability and functionality for years to come.
4. Use Accent Lighting
Proper lighting can transform the ambiance of your guest bathroom. Incorporate both task lighting for grooming and ambient lighting to create a warm and inviting atmosphere. Consider wall sconces, pendant lights or a chandelier for added elegance.
5. Choose a Statement Vanity
The vanity is often the focal point in a bathroom. Opt for a vanity that complements your style, whether it's a rustic wood piece, a sleek floating design or a vintage cabinet-turned-vanity. A statement vanity can elevate the entire bathroom's aesthetic.
6. Upgrade the Shower
If space permits, consider installing a walk-in shower with frameless glass doors. This modern touch not only adds elegance but also makes the bathroom feel more spacious. Select high-quality tiles and fixtures for a polished look.
7. Think About Accessibility
Keep accessibility in mind when designing your guest bathroom. Install grab bars in the shower or near the toilet for safety. Choose a vanity with a comfortable height, and ensure there's enough space to maneuver easily.
Let's Start a Conversation!
You can count on trusted bathroom contractor DreamMaker Bath & Kitchen of Ogden to design and build a mini-retreat for your guests. Just send us a message or call (801) 614-7263 to set up an appointment. We serve clients in West Point, West Haven, Pleasant View, Farr West, Tooele, Woods Cross, Washington Terrace and surrounding areas.