---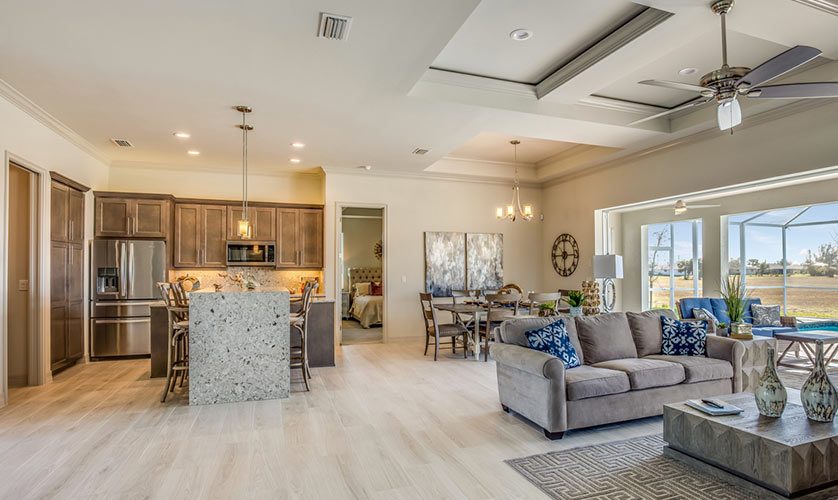 ---
Designing the ideal floor plan for your forever home is crucial to ensure your comfort, safety and independence in your golden years. That said, a well-thought-out floor plan should facilitate easy movement and accessibility while minimizing obstacles and hazards. Read on to learn the key features you should incorporate in your accessible remodeling project.
Open-Concept Layout
An open-concept floor plan is one of the most popular and practical options for older adults who want to keep their freedom and independence at home. It eliminates barriers between the kitchen, living, and dining areas, creating a seamless flow of movement and enhancing visibility throughout the space. This layout is beneficial for several reasons, such as:
Accessibility: The absence of walls and tight corners makes it easier to maneuver a wheelchair or walker if needed. It also allows for a more open and unobstructed path of travel.
Social Interaction: Open-concept layouts encourage social interaction, enabling you to stay connected with family members or caregivers while going your their daily routines.
Versatility: With fewer physical barriers, it's easier to rearrange furniture and adapt the space to your changing needs. Accommodating medical equipment or making room for home care services is less complicated.
Single-Story Living
A single-story floor plan is a top choice for older adults who want to continue living in their homes. It eliminates the need for stairs, reduces the risk of falls, and ensures that every essential space is on one level. A general contractor adds the following features to a single-story layout:
Main Bedroom Suite: Ideally, the main bedroom suite should be located on the same floor as the living areas, kitchen and laundry room. This minimizes the need to navigate stairs daily.
Accessible Bathroom: The bathroom should be designed with accessibility in mind. Features like a roll-in shower, grab bars and a comfort-height toilet are essential for safety and ease of use.
Open Walkways: Wide hallways and doorways throughout the home are crucial to accommodate mobility aids like wheelchairs or walkers.
Universal Design Principles
Universal design principles focus on creating spaces that are accessible and convenient for people of all ages and abilities. When implementing universal design in a floor plan, consider the following:
Zero-Threshold Entries: Ensure that entryways, both from the exterior and between rooms, have zero-threshold transitions. This eliminates tripping hazards and facilitates easy movement.
Lever-Style Door Handles: Replace traditional door knobs with lever-style handles, which are easier to grasp and operate for individuals with limited hand strength or dexterity.
Multi-Height Countertops: In the kitchen and bathroom, include countertops of various heights to accommodate users who may be seated or standing. Lower countertops can be used for food preparation or as seated workspaces.
Ample Lighting: Incorporate ample lighting with adjustable controls to accommodate different visual needs. Task lighting in the kitchen and bathroom is especially important.
Accessible Kitchen Layout
Consider the following elements when designing an accessible kitchen layout:
Counter Heights: Install countertops at varying heights to accommodate users who may be sitting or using mobility aids. Lower sections are useful for food prep, while standard-height counters can be used for other tasks.
Pull-Out Shelves: Use pull-out shelves and drawers in cabinets to access items at the back of the storage space without having to reach or bend.
Appliance Placement: Keep commonly used appliances within reach and at a comfortable height. Front-control ranges and side-by-side refrigerators with lower freezer drawers are convenient choices.
Under-Sink Clearance: Ensure that the space beneath the sink allows wheelchair users to roll in comfortably. Consider a wall-mounted sink with an open space below.
Let's Start a Conversation!
Ready to create the ideal floor plan for your forever home? Call DreamMaker Bath & Kitchen of Ogden at (801) 614-7263 to schedule a consultation. You may also fill out our online form to request a kitchen or bathroom quote. We serve clients in West Point, West Haven, Pleasant View, Farr West, Tooele, Woods Cross, Washington Terrace and surrounding areas.