---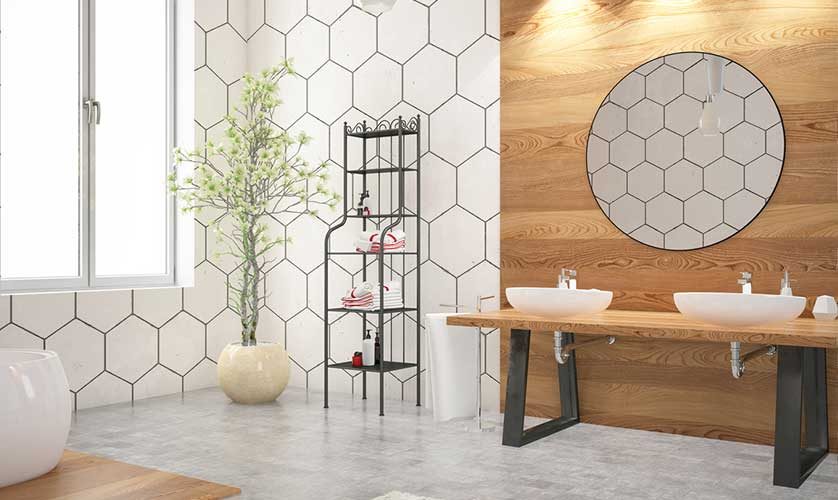 ---
Bathroom lighting is essential for creating a functional and inviting space. In this post, renowned bathroom contractor DreamMaker Bath & Kitchen of Ogden will guide you through different types of lighting, as well as the factors to consider when choosing fixtures so you can get the most out of your bathroom's illumination.
Ceiling Lighting
Ceiling lighting serves as the primary source of illumination in a bathroom. Recessed lights or flush-mount fixtures provide overall ambient light, ensuring adequate brightness for everyday tasks. This type of lighting is best used with other lighting options to prevent shadows and create a well-balanced and inviting atmosphere.
Vanity Lighting
Vanity lighting adds both functionality and style to the bathroom, serving as a decorative element while enhancing visibility in the sink area. It is especially important for users doing tasks such as applying makeup, shaving, or brushing teeth. Wall-mounted vanity lights, typically installed above the mirror, offer even and shadow-free lighting on the face. Choose fixtures with frosted or opal glass shades to diffuse light and minimize glare.
Wall Sconces
Wall sconces are versatile lighting fixtures that can add a touch of elegance and character to your bathroom. They can be used to flank a mirror or be placed strategically on walls to create ambient lighting. Wall sconces offer a soft, diffused glow and are an excellent choice for providing additional illumination or accentuating specific areas, such as around a vanity or bathtub.
Pendant Lighting
Pendant lights are a stylish and eye-catching option for bathroom lighting. Suspended from the ceiling, they can be used to create a focal point or provide targeted lighting for specific areas, such as above a freestanding bathtub or a vanity with a seating area. Pendant lights come in various styles, shapes and materials, allowing you to add a touch of personality to your bathroom while illuminating key features. Ask your bathroom remodeler about the best pendant lighting size for your bathroom.
Natural Lighting
Nothing beats natural light in the bathroom during the daytime. It brings a sense of freshness, warmth and a connection to the outdoors. Maximizing natural light can be achieved through the use of large windows, skylights or even a strategically placed lightwell. Natural lighting is perfect for illuminating the entire space during the day and creating a soothing and uplifting environment.
Let's Start a Conversation!
To get started on your bathroom remodeling project, turn to "the best bathroom contractor near me". Call DreamMaker Bath & Kitchen of Ogden at (801) 614-7263, or fill out this contact form to schedule a conversation. We proudly work with homeowners in Farr West, Marriott-Slaterville, South Ogden, Eden, Huntsville, Mountain Green, and Peterson.