---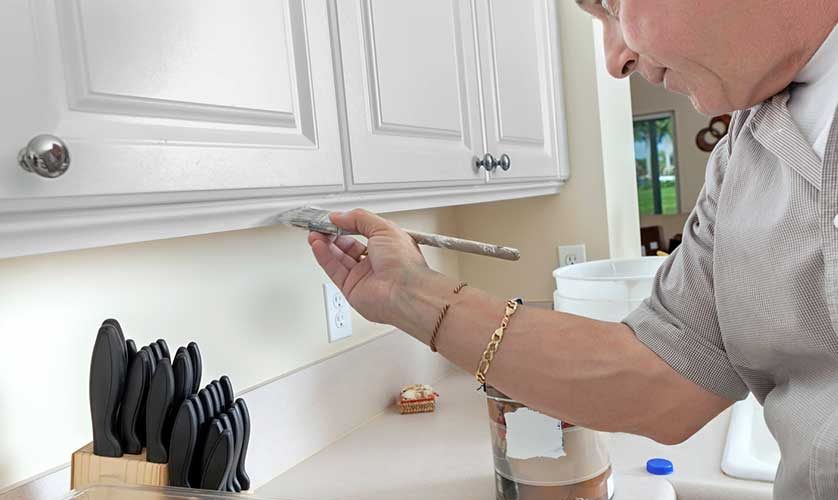 ---
Choosing the right paint for your kitchen is vital to achieving a beautiful and appealing space. In this post, trusted kitchen remodeler DreamMaker Bath & Kitchen of Ogden takes a look at the different paint finishes to consider when updating the room's aesthetics.
High Gloss
High gloss paint has a shiny, reflective finish, making it highly durable and easy to clean. Since it is known to be resistant to stains, moisture and grease, it is a suitable choice for kitchen cabinets, trims and doors. However, high gloss finishes tend to highlight imperfections on surfaces, which is why proper preparation is necessary for a smooth and flawless appearance.
Semi-Gloss
Semi-gloss paint offers a subtle shine and even looks great despite some unevenness in texture. It is highly durable, moisture-resistant and easy to clean, making it ideal for kitchen walls, cabinets and other high-traffic areas. Semi-gloss finishes are versatile and work well in both traditional and contemporary kitchen designs.
Satin
Satin finishes strike a balance between a smooth sheen and easy maintenance. They have a velvety appearance and offer a subtle glow, making them suitable for kitchen walls. Satin paint is durable, washable and provides good coverage while minimizing surface imperfections. It's a great choice if you want a soft and elegant look in your kitchen, but make sure to seek guidance from a kitchen contractor to determine if this type of finish is worth including in your remodeling plans.
Eggshell
This type of paint finish has a low sheen, similar to the texture of an eggshell, hence the name. It offers a slight gloss and looks great despite some odd surfaces. Eggshell paint is suitable for kitchen walls, providing a smooth, washable and durable finish. It offers a warm and inviting look, making it a popular choice for many kitchen styles.
Matte/Flat
Matte or flat finishes have no sheen and provide a non-reflective, velvety appearance. While they are not typically recommended for kitchen surfaces prone to splatters and stains, they can be used effectively on kitchen ceilings. Matte finishes help to reduce glare and create a calm and cozy atmosphere in the kitchen.
Let's Start a Conversation!
To help you achieve the kitchen space you've always been dreaming of, turn to DreamMaker Bath & Kitchen of Ogden. As the "top kitchen contractor near me", we take pride in taking on a personalized approach in handling every aspect of the remodeling project, from the design consultation to the finishing touches. Give us a call at (801) 614-7263, or fill out this contact form to schedule a conversation. We proudly work with homeowners in Morgan, South Weber, Roy, Hooper, Clinton, Sunset, Clearfield, Syracuse, Layton, Kaysville, Farmington and Centerville.