---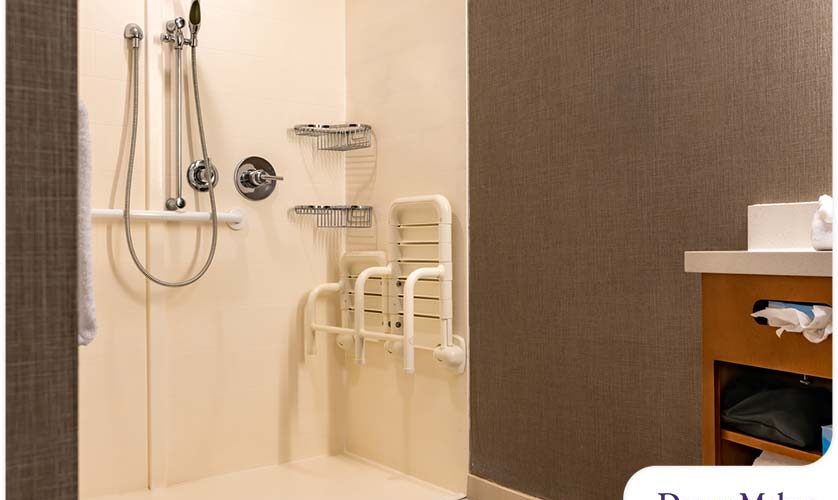 ---
When creating a functional and comfortable bathroom, shower seating is an often-overlooked yet essential element, especially in accessible remodeling. Choosing the perfect shower seat for your needs and preferences may seem daunting. So here's DreamMaker Bath & Kitchen of Ogden to guide you through the key factors to consider and the various options available, ensuring you make an informed decision for your bathroom oasis.
Assessing Your Needs
Before diving into the world of shower seats, it's crucial to assess your specific needs or those of the person who will use the seat. Consider any physical limitations, such as mobility challenges, balance issues or pain concerns, as well as the main purpose of the seat. Ask yourself if it will be used for resting during a shower, for assistance during transfers or for added safety.
Types of Shower Seats
Wall-Mounted Seats
These space-saving seats are attached directly to the wall and can be folded up when not in use. There are padded options for extra comfort.
Freestanding Seats
Known for their versatility, freestanding seats come as stools or chairs with armrests and backrests. They offer more flexibility in placement but may require more space.
Transfer Benches
These seats extend over the bathtub edge, providing support and stability during transfers in and out of the tub.
Tub-Mounted Seats
If you or your family members have limited mobility, you should choose a tub-mounted seat. This type of seat is designed to attach securely to the side of the bathtub, offering a stable seating solution.
Material Considerations
The material of your shower seat plays a significant role in its durability, maintenance and overall appearance. Plastic seats are lightweight and easy to clean, while wooden options offer a warmer, more natural look. Metal frames provide solid support, but non-metal alternatives minimize the risk of rust and corrosion.
Safety Features
Safety should always be a top priority when selecting a shower seat. Look for non-slip surfaces, handrails and grab bars for added support. Ensure the seat has an appropriate weight capacity and choose a model with an adjustable seat height and width for personalized comfort.
Aesthetic Considerations
Your shower seat should be functional and complement your bathroom's design. With customizable options and various materials to choose from, you can easily find a seat that blends seamlessly with your décor.
Working With a Professional Bathroom Remodeler
To guarantee a successful remodeling project, working with a skilled bathroom contractor is essential. They will ensure proper installation of your shower seat, considering safety and function while providing expert guidance on the best options for your needs.
Let's Start a Conversation!
Looking for an experienced bathroom remodeler to help you choose and install the right shower seat for your bathroom? You can rely on us at DreamMaker Bath & Kitchen of Ogden. We are dedicated to meeting the remodeling needs of clients in Farr West, Marriott-Slaterville, South Ogden, Ogden, Eden and the surrounding areas. Call (801) 614-7263 or fill out our contact form for free consultations or estimates.