---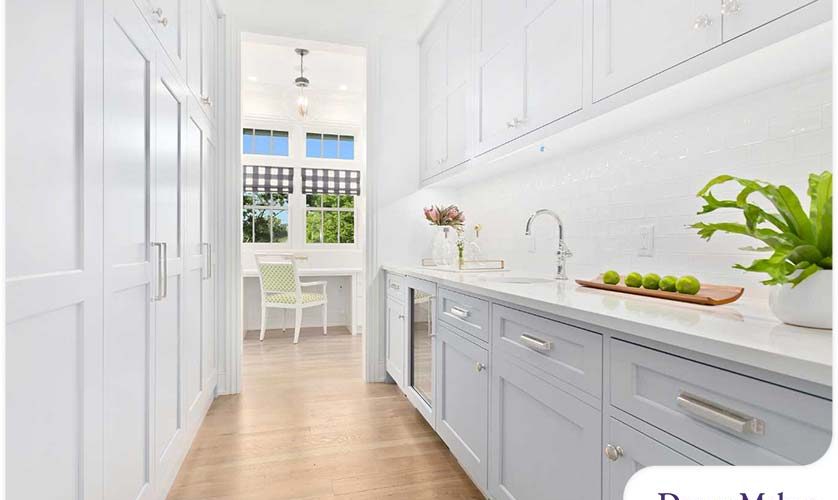 ---
If you want a well-organized and stylish kitchen space, a butler's pantry can be a great addition to your home. However, to know whether or not a butler's pantry is worth investing in, you need to consider its history, design, uses and other important factors that can be crucial to your decision-making.
Continue reading as DreamMaker Bath & Kitchen of Ogden discusses what you need to know about butler's pantries.
What Is a Butler's Pantry?
A butler's pantry, named after the person traditionally responsible for serving the owner's household, is a small room or space separate from the main kitchen. Historically, it was used to store silverware and other serving items, as well as a place for food preparation and plating.
Today, butler's pantries continue to serve as a practical and stylish storage solution for dinnerware, glassware and other kitchen accessories. They also provide an additional workspace for food preparation, serving and after-meal cleanup.
Things to Consider When Planning a Butler's Pantry
Space Requirements
The size of your butler's pantry will depend on your specific needs and the available space in your home. It can be a small nook, a walk-through space or even a full-sized room.
Location and Layout
Ideally, a butler's pantry should be located near the dining area or the main kitchen for easy access. Consider the most efficient layout with convenient access to food, utensils and serving items.
Storage Options and Organization
Evaluate your storage needs and design your butler's pantry accordingly with shelves, cabinets and racks for maximum organization and accessibility.
Design Tips
Use Stylish Materials
Choose materials and finishes that complement your home's overall design. Consider incorporating luxurious details, such as marble countertops or custom cabinetry, for an elegant touch.
Consider Lighting and Electrical Wiring
A well-lit pantry is essential for both function and ambiance. Include task lighting for food prep areas, as well as accent lighting to showcase your dinnerware. Plan for electrical outlets for appliances like coffee makers and wine coolers.
Add a Personal Touch
Customize your butler's pantry by adding unique features, such as a wine rack, built-in coffee station or appliance garage.
The Importance of Working With a Professional
Working with an experienced kitchen contractor is key to bringing your dream butler's pantry to life. A skilled kitchen remodeler will help you design your ideal pantry and ensure a seamless installation process. If you want to find a "contractor near me," seek referrals from friends or family, read online reviews and look for a contractor with a proven track record of success.
Let's Start a Conversation!
A well-designed and functional butler's pantry can be an invaluable addition to your home, offering a seamless blend of style, organization and practicality. Don't hesitate to reach out to DreamMaker Bath & Kitchen of Ogden. To schedule a consultation, call us at (801) 614-7263 or complete our contact form. We proudly serve homeowners in Ogden, Huntsville, Mountain Green, Peterson, Morgan, South Weber and nearby areas.