---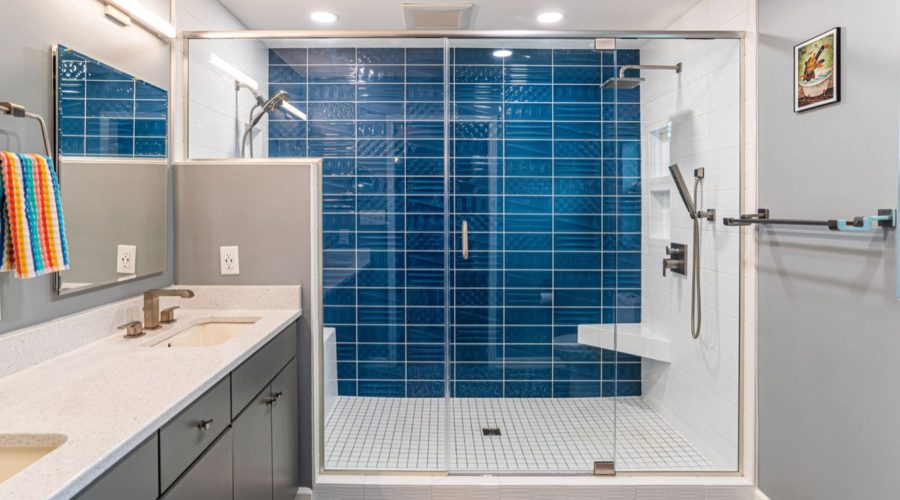 ---
The bathroom is one of the most important rooms in a home, and the impact of color on bathroom design cannot be understated. Whether you're looking to create a tranquil oasis or an energizing environment, color can be used to express a wide range of emotions and moods.
Let's explore the impact of color on bathroom design and how you can use it to create your perfect bathroom.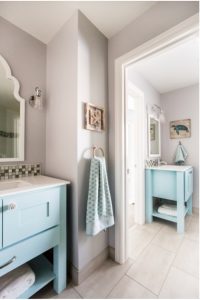 When you are looking to upgrade your current bathroom, you should consider the effect that color can have on the overall look and feel of a bathroom. From calming blues to vibrant yellows, the right color scheme can make a bathroom look and feel more inviting and comfortable. The use of color in bathroom design can be a powerful tool for creating a unique and inviting space.
Let's look at the basics of how color affects our emotions. Warm colors such as reds, oranges, and yellows evoke feelings of energy, enthusiasm, and excitement. Cool colors such as blues and greens create a calming, tranquil atmosphere. Neutral tones like white and grey are often used for a modern, minimalist look. Ogden area homeowners vary in their color palette preferences. While many Utah residents prefer neutral tones, the DreamMaker team is seeing greater interest in adding vibrant colors as accents.
When it comes to bathroom design, color is often used to create a soothing atmosphere. Soft blues and greens are great for creating a calming spa-like retreat. Alternatively, you might opt for warm tones to create a vibrant and energizing atmosphere. If you're unsure which color to choose, try experimenting with different shades to see what works best for your space.
Color isn't just about creating a certain atmosphere; it's also about creating a sense of balance and harmony. For example, if you're using bright colors to create a lively atmosphere, you might want to balance it out with more muted tones such as neutrals or pastels. This will help to break up the color and create a more inviting and visually appealing space.
It's also important to consider the size of your bathroom when choosing a color scheme. With some smaller bathrooms in the Ogden area, you might want to opt for lighter and brighter colors to open up the space. If you have a large bathroom, darker and more saturated colors can be used to create a more intimate and cozier atmosphere.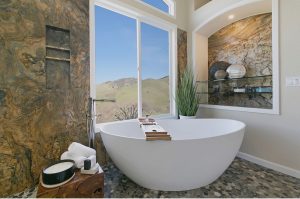 Color is a great way to add personality and style to your bathroom. From classic neutrals to bold and bright tones, there is no shortage of options when it comes to creating a unique look. You might opt for a single, statement color for a bold look or use a combination of different shades for a more eclectic style.
When it comes to choosing the right colors for a bathroom, there are a few things to consider:
Walls and Floors
First, the color of the walls should be chosen carefully, as this will help to set the tone of the room. Warm, neutral colors are best for creating a calming atmosphere, while bold, bright colors can help to create energy and excitement. Additionally, the color of the floor should also be taken into consideration, as this will affect the overall look of the room.
Bathroom Fixtures
Another important aspect of bathroom design is the fixtures that are chosen. It is important to pick fixtures that are both functional and aesthetically pleasing. For example, choosing a bathtub with a bright color can help to liven up the room, while a more muted color can help to create a sense of relaxation. Additionally, the type of faucet and other fixtures should be considered as well, as these will also affect the overall look of the room.
Accessories
Accents and accessories can also be used to add a pop of color to a bathroom. Items such as towels, rugs, artwork, and plants can all be used to give the room a unique look. By mixing and matching different colors and textures, an individual can create a space that is tailored to their personal tastes.
Bathroom Tiles
One way that color can be used to great effect in bathroom design is through the use of tiles. Tiles come in a variety of shapes, sizes, and colors and can be used to create patterns, contrast, and texture. For those on a budget, tiles can be a great way to add color without breaking the bank. Tiles can be used to create an interesting visual effect in the bathroom, as the tile pattern can be tailored to the individual's own preferences and style.
Materials
When designing a bathroom, it is important to consider the type of materials used and how they interact with the chosen color scheme. For example, light and airy shades can be used to help create the illusion of space, while darker colors can help to create a cozy atmosphere. It is also important to consider how the chosen materials will react to heat and moisture, as these can cause fading or discoloration over time.
Bathroom Textures and Patterns
The use of texture and patterns can be another way to incorporate color into a bathroom design. Patterns can be used to create interest and provide a focal point, while textures can help to make a room feel more inviting.
Bathroom design has become increasingly creative in recent years, and one of the most exciting ways to add some personality to your space is by incorporating colors. Color can be used to create a certain atmosphere and mood. By choosing the right colors you can make the space feel comfortable, and inviting, while still making a bold statement.
The Ogden DreamMaker team has remodeled hundreds of bathrooms over the years. The use of color in bathroom design can have a huge impact on the overall look and feel of your space. Whether you want to create an atmosphere of tranquility, vibrancy, or luxury, it's important to understand the psychology of colors. This helps you in choosing the right aesthetic for your bathroom. The right colors can bring magic into your private sanctuary. From creating a soothing atmosphere to adding personality and style, colors cannot be underestimated. The impact of color in bathroom design can be significant, most especially, when you want to make a statement with your decor. As the bathroom is arguably the most private room in the home, its design should reflect your values, style, and personality.
If you're interested in a design consultation for your bathroom, we invite you to come to our Design Center located at 1523 E Skyline Drive, Suite A in Ogden, Utah. We have a number of bath vignettes and Bathroom Designers on staff that can help you with your remodeling needs.