---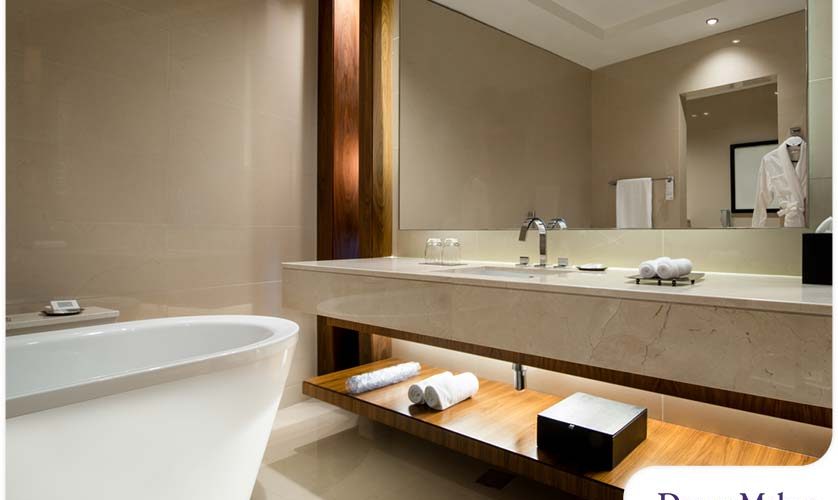 ---
A tranquil and relaxing bathroom can be a refuge from stress after a long day or during times of uncertainty. With some thoughtful design choices, you can create a calming and inviting atmosphere for yourself or your guests. Here are four tips for creating a tranquil bathroom space during your bathroom remodel.
1. Choose a Color Palette That Invokes Calm
Consider using cool color tones to create a sense of tranquility within your space. Neutral colors like shades of blue, green, gray and cream evoke serenity. On the other hand, warm colors such as reds, oranges and yellows may cause stimulation rather than relaxation when used in large quantities throughout the room. You can apply this color to your wall paint, curtains, accessories and more.
2. Create an Atmosphere of Tranquility With Lighting and Scented Candles
Lighting plays an essential role when it comes to creating ambiance. Try installing dimmers on light switches so you can easily adjust brightness levels depending on what kind of mood you'd like set in the room.
Also, consider scented candles for aromatherapy benefits. For example, lavender is known to reduce stress hormones. However, if you are adding candles, ensure adequate ventilation around them at all times for safety and comfort.
3. De-Clutter and Add Storage Solutions
Keeping countertops clear of excessive items improves aesthetics and keeps your bathroom visually clear. During your bathroom renovation, add more storage by installing cabinets beneath without using too much wall or floor space. You can use baskets as an alternative to cabinets for smaller bathrooms.
4. Invest in Quality Towels and Linens
High-quality towels are essential in creating an atmosphere of serenity within bathrooms. Soft textures on fabrics give off comfort signals that encourage relaxation rather than stress, so invest in plush bath towels made from natural fibers. Cotton or bamboo have special absorbent qualities making them perfect additions to any tranquil bathroom setting.
Change sheets frequently. Nothing feels better than wrapping up inside cozy linens after enjoying long baths filled with aromatherapy candles or bubble baths infused with Epsom salts.
Let's Start a Conversation
For your next bathroom or home remodel, turn to the expert contractors at DreamMaker Bath & Kitchen of Ogden. Our professional team has decades of experience and knowledge in designing and building the dream bathrooms for many homeowners in your area. Call us today at (801) 614- 7263 or fill out this contact form to get a free estimate. We proudly serve Millcreek, East Millcreek, Sugar House, Mount Olympus, and Holladay.