---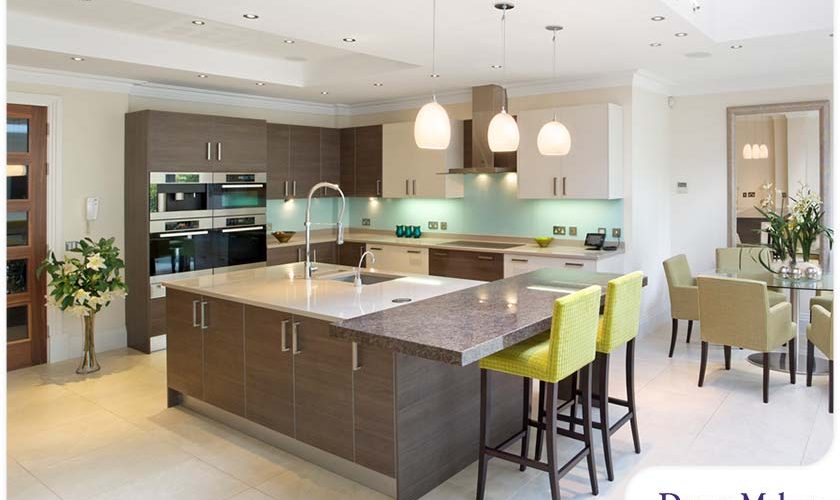 ---
The modern kitchen can have various designs and sizes. As the average home's footprint has increased over the years, the average size of residential kitchens has grown as well. If you want to expand your kitchen or make simple upgrades, you'll naturally want to do some research first to make sure you're making the right decision.
In this post, trusted kitchen contractor DreamMaker Bath & Kitchen of Ogden discusses why the average U.S. kitchen has grown over time and if you need to upgrade your space.
Residential Kitchens Over the Years
Since 1980, the average size of residences has gradually climbed to 2,600 square feet, and kitchens have expanded even more quickly as kitchens are now serving a social function too. Modern kitchens typically have spacious dining areas for hosting guests, so it's common to see kitchens around 400 square feet or more in large homes. Kitchens are now frequently included in open floor plans, removing physical boundaries between the kitchen and the living area.
Top Considerations When Deciding to Upsize Your Kitchen
According to the National Kitchen and Bath Association (NKBA), the average kitchen in the U.S. is approximately 161 square feet in single-story homes and 174 square feet in multi-story homes. Homeowners with less than 1,500 square feet have an average kitchen size of 103 square feet. In homes larger than 4,000 square feet, kitchens are typically 238 square feet.
A kitchen contractor near me will help you decide the right kitchen size for your home. Fortunately, with DreamMaker Bath & Kitchen of Ogden, a custom-sized kitchen is easier to achieve.
The right kitchen size depends on what you want out of your kitchen and dining space. If you're thinking of expanding your kitchen, these are some of the factors you must consider:
If you have a large family, you will require additional space. This is especially true if many of you in the household loves to cook or if you enjoy hosting dinners. Generally, the more people living in your home, the larger the kitchen should be — especially if the dining space is in the kitchen.
Just because you can accommodate a range of practical single-use equipment into a larger kitchen doesn't mean you should. When planning a large kitchen, you must find a balance between what you want and what you need. Don't add appliances you won't use frequently.
Built-in kitchen features are excellent for reducing space while creating a seamless appearance, which makes kitchens appear larger than they are. If there's too much going on visually, even a large, open area might feel cluttered and claustrophobic. You'll want to use a mix of concealed and open storage so that the space remains visually appealing and functional.
Let's Start a Conversation!
Whatever vision you have for your kitchen, trusted kitchen remodeler DreamMaker Bath & Kitchen of Ogden will work hard to meet your standards. Call us at (801) 614-7263 or fill out our contact form to schedule an appointment. We proudly serve homeowners in Murray, Cottonwood, Cottonwood West, Cottonwood Heights, Midvale, West Jordan, and nearby communities.