---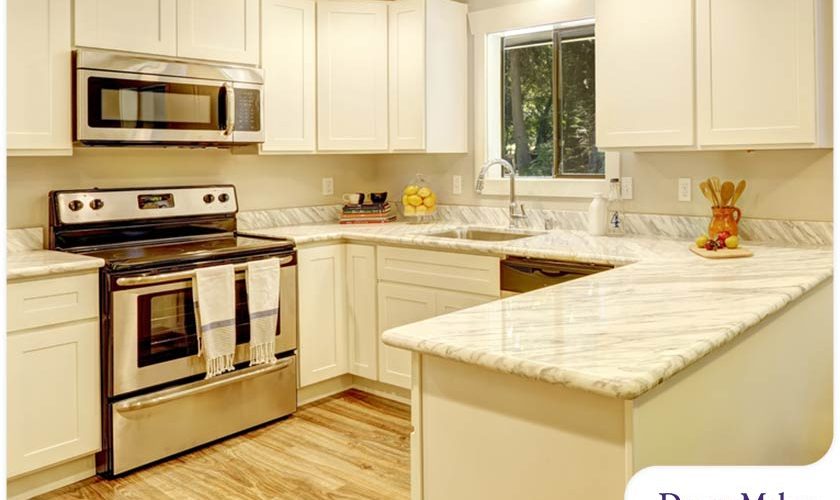 ---
A U-shaped kitchen is a common choice for traditional homes. This kitchen layout has also found its way into modern homes. If you're unsure whether this design is suitable for your home, here are the pros and cons of a U-shaped kitchen.
Pros
Ensures Adequate Counter Space
A U-shaped kitchen typically comes with a lot of counter space, which will influence the kitchen quote you're going to receive from contractors. Generally, a large counter space enables you to perform various tasks more comfortably. Spacious counters also create enough room to store large bowls, pots, pans and small kitchen appliances.
Separates the Kitchen
In an open-concept floor plan, a U-shaped layout clearly defines the kitchen area and separates it from other living spaces without the need for walls. This means you can still talk to your guests or watch your kids in the living area while you're working in the kitchen.
Maximizes Storage
This is another factor that could impact your kitchen estimate. Since a U-shaped kitchen is formed by three walls, this makes it easier to install cabinets, maximizing your storage options. With sufficient storage space for pots, pans, utensils and small appliances, your kitchen will be more organized.
Provides Space for a Kitchen Island
If you have enough square footage in the middle of your U-shaped kitchen, installing a kitchen island is a great addition. Adding an island will further increase your storage and counter space and, at the same time, enhance your workflow in the kitchen.
Cons
Feels Cramped at Times
If a U-shaped kitchen is built in a small, narrow space, it can easily feel cramped, especially if all three sides have high walls or cabinets. To open up the space, opt for an open plan with just two walls instead.
Difficulty Accessing Corner Cabinets
Sometimes remodelers don't bother installing cabinetry in the two corners of a U-shaped kitchen, wasting space that could have been used for storage. However, in the event your contractor does install corner cabinets, utilizing these cabinets is often difficult.
Let's Start a Conversation!
You can always trust DreamMaker Bath & Kitchen of St. Louis Park for superior bath and kitchen remodels. If you're still searching for the best "kitchen remodeler near me", you don't need to look further. Call us at (952) 522-3008 or fill out our contact form to schedule a consultation. We proudly serve homeowners in Minneapolis, St. Louis Park, Golden Valley, Roseville, Vadnais Heights and other nearby areas.