---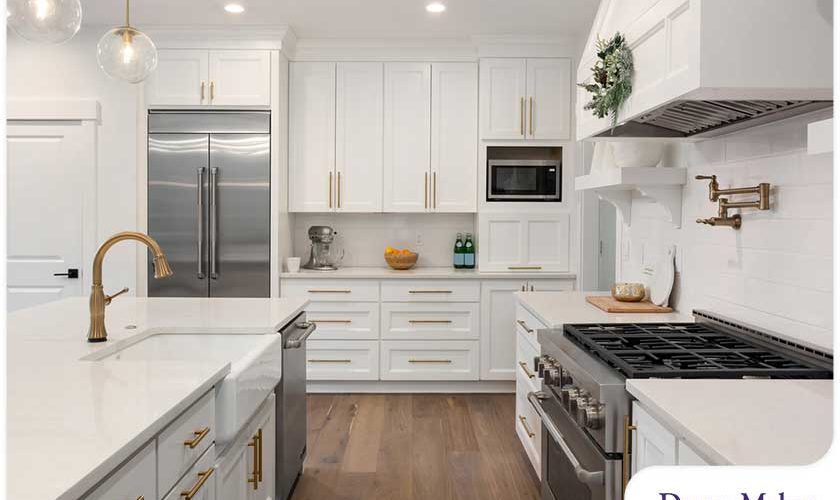 ---
Mid-century modern design commonly features clean lines, graphic shapes, vibrant colors and a combination of natural and manmade materials. Modern-day kitchens that adopt this style ultimately showcase simplicity and functionality, with a nod to Scandinavian designers of that era. Here, a premier kitchen contractor discusses the key elements of a mid-century modern kitchen.
Wood cabinetry. Wood is a staple of mid-century design due to its warm and rustic appearance. Wood veneer is a more affordable alternative to solid wood. It is a common misconception that pieces of furniture made of solid wood are of higher quality than those made of veneers. In many instances, wood veneer furniture outperforms its counterpart in terms of strength and durability.
Glass cabinetry. A mid-century modern kitchen often features glass-fronted cabinets, allowing kitchenware and other collectibles to be viewed from both the kitchen and living room.
Architectural flow. A consistent and seamless flow of architecture is highly valued in mid-century modern style. If your home already has elements such as sloping ceilings, wood paneling and large windows, creating a kitchen that reflects this style will elevate the cohesiveness of your home.
Bold backsplash. Incorporating a bold backsplash is a great way to transform a kitchen into a mid-century modern retreat. A trusted kitchen remodeler might recommend bright shades and organic shapes that suit the overall theme, while geometric tiles are reminiscent of mid-century pottery.
Statement lighting. Lighting is an important consideration in any kitchen design. It not only contributes to the atmosphere of the space, it also determines its functionality and style. Consider hanging tinted pendants over your kitchen island or a contemporary light fixture over your breakfast nook.
Bright colors. Do not forget to amp up the space with some colorful accessories. Earthy tones like mint green contrast nicely with vibrant pops of color like burnt orange. Get inspired by bright paint colors and handmade folk patterns.
Functional furniture. Bar stools around a freestanding kitchen island are another element to consider when designing your mid-century modern kitchen. Consider multi-purpose pieces by iconic Scandinavian designers, though there is also modern furniture with unique shapes — such as odd-shaped coffee tables or angular chairs — that are half the price tag.
Let's Start a Conversation!
When you partner with DreamMaker Bath & Kitchen of St. Louis Park, our designers and remodelers will help you create the perfect mid-century modern kitchen. We will walk you through our industry-leading product selection and offer the quality of customer service you deserve. Give us a call at (952) 522-3008 or fill out our online form to get in touch with a dependable "contractor near me". Our service areas include St. Louis Park, Minneapolis, Dayton, Roseville and Sunfish Lake.