---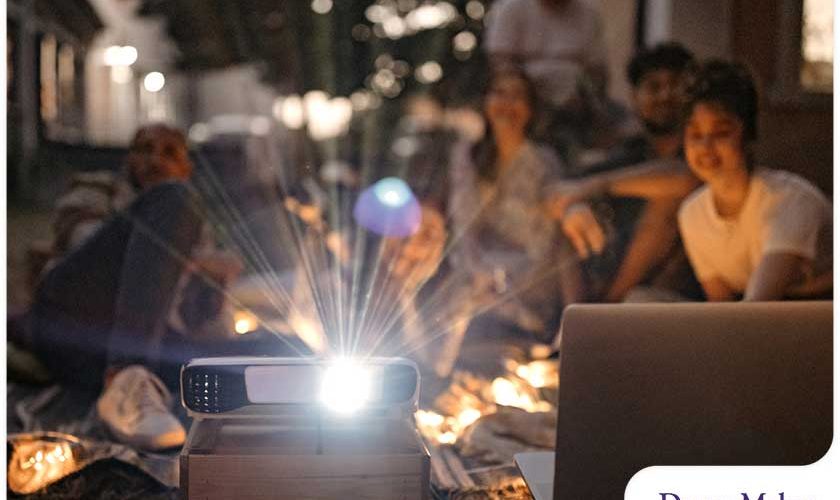 ---
Creating an outdoor theater with a basic set-up at home has now become more accessible than ever. Interior remodeling company DreamMaker Bath & Kitchen of St. Louis Park shares the basic elements you will need to build your very own outdoor home theater.
Essential Equipment
Projector
When designing a movie theater outdoors, start with a portable projector with at least 2,000 lumens. Ideally, you want a unit that offers sharp, bright pictures and comes preloaded with a number of streaming services like Netflix, Hulu and Amazon Prime. In terms of sound, you want a projector that comes with built-in speakers, which can be connected to your phone or tablet if you want to turn up the volume.
Screen
If you are going to have a movie theater in your backyard, why not go all the way and make it as professional-grade as possible? Find a widescreen with 16:9 aspect ratio that is easily compatible with any standard projector — for example, Elite Screens Yard Master Plus. This screen has a 160-degree viewing angle and detachable legs, making it easily movable.
Speakers
Whether you have decided on an outdoor projector without built-in speakers or simply want the option to crank up the volume to a more powerful level, a portable Bluetooth speaker offering a clear, balanced sound is a great choice. With this type of speaker, you do not have to worry about running it inside when it rains.
How to Set It Up
First, you need to pick a location for your outdoor theater. Normally, you want to set up the portable screen in the backyard, though some homeowners prefer to watch from their pool or hot tub. Throw down some outdoor cushions for a retro camp look and feel. For a romantic ambience, bring out the wine chillers and hurricane candles. Hanging string lights from a pagoda or nearby tree also elevates the movie-going experience.
Let's Start a Conversation!
DreamMaker Bath & Kitchen of St. Louis Park specializes in home remodeling services, including building entertainment areas and theater systems. Our team of experienced designers and remodelers is committed to creating the perfect space your family can enjoy all year round. Give us a call at (952) 522-3008 or fill out our online form to schedule your home renovation consultation. Our service areas include Minneapolis, Adina, Sunfish Lake, Eden Prairie and Robbinsdale.