---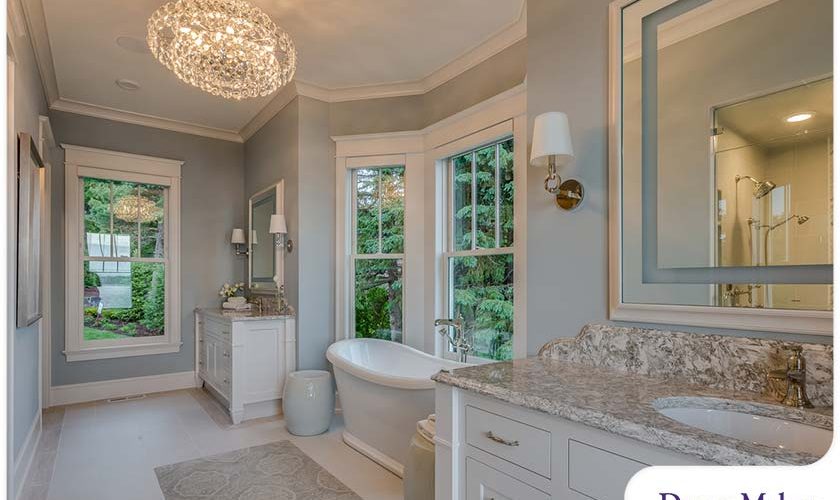 ---
When you're planning a bathroom renovation project, one of the first things you need to focus on is the layout. Without it, you won't achieve a space that's both appealing and functional. Make sure you have a well-crafted bathroom layout with these dos and don'ts. DreamMaker Bath & Kitchen of Orland Park discuss them here.
Bathroom Layout Dos
Utilize natural light. Harnessing natural light can bring forth numerous benefits. Apart from its effects on your physical and mental well-being, allowing more sunlight into your home helps make any room feel more inviting, relaxing, and functional. So, when renovating your bathroom, consider positioning your mirror, sink, or bathtub near a window. This way, your morning routine feels more cheerful. Taking advantage of natural light also helps you minimize the use of artificial light during the day.
Consider storage. A well-thought plan for storage is a great way to enhance the functionality of the space and should be one of the primary points of focus when planning your bathroom remodel. Utilizing dead space for storage is among the most efficient ways to boost bathroom storage. Consider adding shelving over the toilet, drawers under the vanity, and niches within partition walls over the bathtub or shower enclosure.
Bathroom Layout Don'ts
Add oversized fixtures. Failure to consider the size of the fixtures concerning your bathroom space can lead to wasted square footage. A big bathtub, for example, may take up so much space that there's little to no room to spare around it. Not only that, but it lends to a more disproportionate design aesthetic – the tub looks bigger than the rest of the features inside the bathroom. Consult your home remodeling contractor to help you find the best size for your preferred fixtures before incorporating them into your bathroom layout.
Have the toilet in full view upon entry. It is never a good look for your bathroom to have the toilet within full view after you swing the door open. Consider changing the direction of the door swing to have your toilet is hidden behind. You may also add a partition wall to conceal the toilet. Make sure there's enough elbow room on both sides of the toilet.
Let's Start a Conversation!
For your home remodel needs, turn to DreamMaker Bath & Kitchen of Orland Park. Let our skilled team of designers and installers work with you in drawing up a bathroom renovation plan that meets your needs and exceeds your expectations. Call us now at (708) 578-6832, or fill out our contact form to schedule a consultation. We serve clients in Orland Park, Tinley Park and Palos Heights, as well as the neighboring areas of Frankfort and Mokena.