---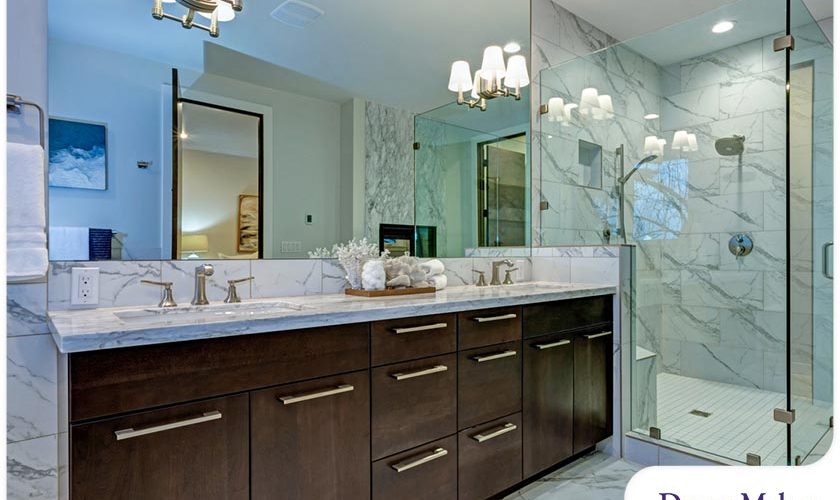 ---
A bathroom remodeling project can be somewhat overwhelming. To make the decision-making process more manageable, you need a plan. This should include things you want to improve, get rid of or add. Doing so will help you stay on track with your project and ensure that you get everything you want.
Whether you want a few simple upgrades or a complete renovation, bathroom remodels are a significant investment. As such, you need a professional contractor to help you with the project. Instead of searching online for a "bathroom remodeler near me", get in touch with DreamMaker Bath & Kitchen of Orland Park. Read on as we share a helpful step-by-step guide to bathroom renovations.
Gather Ideas & Inspiration
The first step of your renovation is to gather ideas and inspiration. This can be easily done, thanks to the internet. Pinterest is a great social media site to look for design ideas and browse different finishes and colors. On the other hand, you may want to explore other items in person, especially faucets and lighting fixtures. Visit local home improvement stores and take photos of any fixtures that catch your eye.
During this stage, you should also decide the scope of your project. Are you planning to update small areas of your home or are you fully renovating your bathroom space from scratch? You may want to turn your shower into a bathtub or add new flooring. Remember, the amount of work you decide to do will affect the materials you will need as well as the project budget.
Hire a Professional Remodeler
Choosing the best contractor for the renovation is an important task, so be sure to do plenty of research. You can ask family or friends if they can recommend a contractor and check review sites for additional feedback. A company's site should include details such as the length of time they have been in business and reviews from previous clients.
Once you've found a contractor to help you with your bathroom remodel, the next step is to establish a budget for the project so you can compare bathroom estimates for the project.
Determine the Order of Selections
Before you begin the project, set a meeting with your contractor to determine the order of selections. This way, you narrow down your focus and finish your remodeling project faster. Here's a general order to consider:
Vanity. The vanity sets the tone for your bathroom, especially as it's the most used and visible piece. Some may have a toe-kick or legs, while others "float" off of the floor. A toe-kick vanity runs the width of the cabinet and rests on the floor and is typically the standard look for a vanity. On the other hand, vanities with legs provide a more custom look, while floating vanities make small bathrooms appear larger.
Tile. The tile covers your floor, walls and, in some cases, shower floors. It must be aesthetically appealing and functional at the same time. Tile comes in a range of materials, from natural stones to porcelain. Ceramic tile is a durable, low-maintenance material that can be used for both floors and walls.
Fixtures and finishes. Most people may want to match their faucet to their shower or bath fixtures as well as the vanity hardware, but you don't have to. Mixing materials will make your bathroom appear more personalized. For bathroom faucets, you can choose chrome, iron or even a ceramic mixed with metal.
Bathtub vs. shower. One of the most difficult decisions you may have to make is choosing between a bathtub and a shower. Bathtubs are great for relaxation, while showers are more accessible and take up less space. You can even choose both, so it's best to discuss this with your contractor.
Lighting. The last thing to consider is your bathroom lighting. Take note that the brighter your bathroom, the better. If you have a large bathroom, add a chandelier or pendant in the center of the room or above the bathtub. To keep it simple, you can match your lighting style and finish with your faucet and shower fixtures.
Let's Start a Conversation!
Here at DreamMaker Bath & Kitchen of Orland Park, our team of bathroom contractors is more than qualified to assist you with your project! To get a bathroom quote, call (708) 578-6832 or fill out our online contact form to book an appointment. We proudly serve homeowners in Orland Park, Tinley Park, Palos Heights, Frankfort, Mokena, New Lenox, Homer Glen, Lemont and Palos Park.