---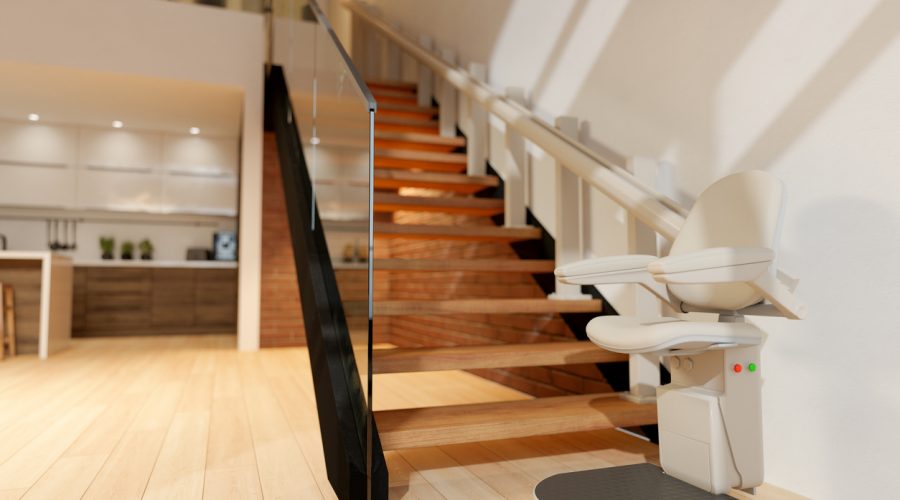 ---
Many senior citizens and people recovering from an injury find it difficult to climb stairs due to limited mobility. A stair lift is a handy solution and something worth considering, especially if you're planning an accessible remodeling project. DreamMaker Bath & Kitchen of Orland Park shares the benefits that you will get if you install a stair lift in your home.
Pros of a Stairlift
A Useful Aging-in-Place Feature
According to a study done by the AARP, 90% of senior citizens would prefer aging at home rather than moving to a senior living community. If stairs are the main safety concern, investing in a stair lift is a smart solution. It's also easy to install. If the staircase is straight, a stair lift can be installed within a day or two, but it may take longer if the staircase has curves or turns. Curved stair lifts take longer to install as the rails need to be custom-designed to fit the specifications of the staircase.
Increased Independence
Having trouble accessing the stairs can cause older adults to feel as if they have lost their independence. With a stair lift, however, you can navigate stairs without anyone's help. You have unlimited freedom going up and down the stairs, allowing you to move around your home without any restrictions.
Prevents Slip & Fall Injuries
Your bathroom remodeler may tell you that the bathroom presents a high risk for slips and falls. However, you should also take note of your staircase. A single misstep while walking up or down stairs can result in a broken hip or leg. A stair lift is the safest and most reliable method of transport. Most stair lifts also offer a lock switch that prevents the chair from being used by others, especially kids.
Easy to Operate
Another benefit of a stair lift is that it is easy to operate. The stairlift is controlled with a toggle switch located on the armrest. If there will be more than one person who will use the chair, you can get a stair lift that has a remote control switch that allows you to move the chair from the top or bottom of the stairs. Additionally, stair lifts charge when they are in the park position, making sure you never run out of power while traversing the stairs.
Let's Start a Conversation!
Still searching online for a "contractor near me"? Look no further than DreamMaker Bath & Kitchen of Orland Park. We're dedicated to creating safe and functional spaces through our Independence by Design™ services. To learn more, give us a call at (708) 578-6832 or fill out our online contact form to book an appointment. We proudly serve homeowners in Orland Park, Tinley Park, Palos Heights, Frankfort, Mokena, New Lenox, Homer Glen, Lemont and Palos Park.