---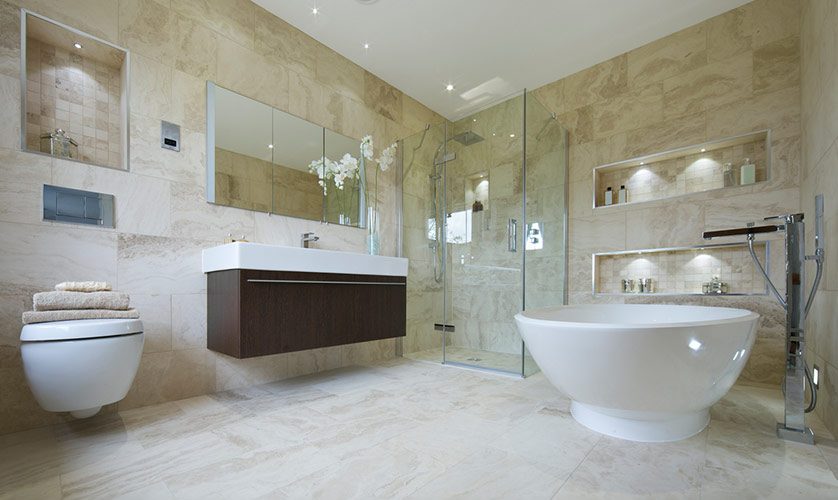 ---
A bathroom renovation does not only enhance your daily routine but also adds value to your home. And while it's essential to stick to a budget, certain bathroom upgrades are simply worth the splurge. Here are some luxurious features to consider for your bathroom remodel.
Quality Fixtures
High-quality faucets, showerheads, and toilet hardware might cost more upfront, but they can save you money in the long run. Durable fixtures are less likely to leak or break, reducing maintenance costs and water waste.
Heated Flooring
Stepping onto a warm floor on a cold morning can be a game-changer. Radiant floor heating provides comfort and can even lower your overall heating bills by efficiently distributing heat throughout the room.
Custom Cabinetry
Custom-built cabinets ensure tailored storage solutions for your bathroom. They maximize space, increase organization and can be designed to match your space.
Freestanding Bathtub
A freestanding bathtub can be a stunning focal point in your bathroom. This bathtub replacement can add a touch of luxury and elegance to the space, creating a spa-like atmosphere for relaxation and rejuvenation.
Frameless Glass Shower Enclosure
A frameless glass shower enclosure gives your bathroom a sleek, modern look. It also makes the space feel more open and spacious while showcasing beautiful tilework inside the shower.
High-End Tiles
Investing in high-quality tiles can significantly impact the overall aesthetics of your bathroom. Durable, designer tiles not only look stunning but also stand the test of time, making them a worthwhile splurge.
Smart Technology
Incorporating smart technology into your bathroom can improve functionality and convenience. Consider features like motion-activated faucets, programmable shower systems, and smart mirrors with built-in lighting and defogging capabilities.
Custom Lighting
Well-planned and customizable lighting can transform the vibe in your bathroom. Opt for dimmable LED fixtures that allow you to adjust the lighting to your preference, creating a relaxing ambiance for baths and a well-lit space for grooming.
Let's Start a Conversation!
Ready to take the leap and give your bathroom a much-deserved makeover? DreamMaker Bath & Kitchen of Ogden is here to help. Send us a message or call (801) 614-7263 to schedule a consultation. We serve homeowners in West Point, West Haven, Pleasant View, Farr West, Tooele, Woods Cross, Washington Terrace and surrounding areas.