---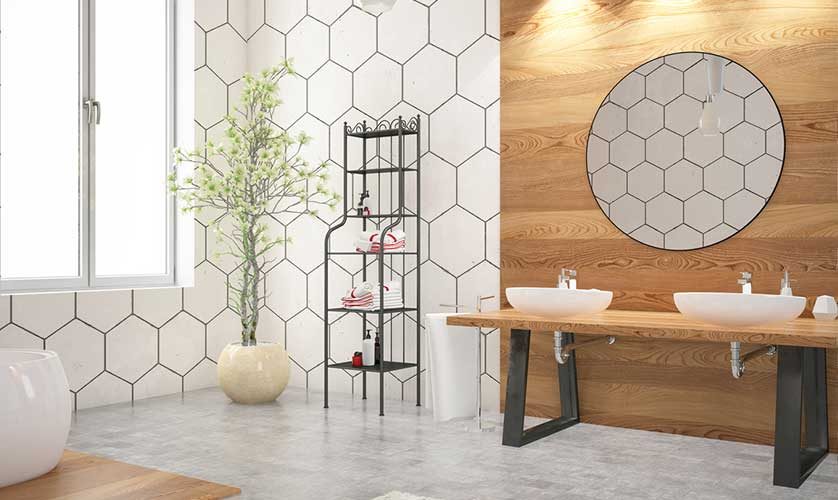 ---
When it comes to designing a bathroom, it's important to consider the overall aesthetic and functionality. One way to elevate the design is by creating architectural focal points. These can be eye-catching elements that draw attention and add interest to the space.
The Shower Area
The shower area is not just a place to get clean. It can be a work of art that adds a luxurious touch to any bathroom. Elevate your shower game by choosing a custom tiled or glass partition, with eye-catching decorative elements like mosaic tiles or etched glass. Imagine the feeling of stepping into a shower that resembles a shimmering piece of jewelry, with intricate multicolored tiles catching the light and captivating your mind and senses.
But why stop at just a beautiful shower? Make a statement with a bathtub that showcases your unique sense of style. A freestanding tub not only adds a touch of vintage charm but also opens up a world of possibilities for creative and dramatic bathroom design.
Alternatively, immerse yourself in relaxation with an oversized soaking tub, complete with innovative features like a built-in lighting system or a soothing waterfall faucet. Sink into your bathtub and let yourself be transported to your oasis, where relaxation and rejuvenation are top priorities. So go ahead-indulge in a little self-care by transforming your shower and bathtub into stunning focal points that reflect your style.
The Lighting Fixtures
Lighting has the power to transform an ordinary space into an extraordinary one. Chandeliers and pendant lights are popular choices for homeowners who want to add a touch of elegance and glamour to their rooms. They come in various shapes, styles, and sizes, allowing you to choose one that best suits your taste and space. Whether you prefer a contemporary, traditional or eclectic look, a chandelier or pendant light can enhance the visual appeal of your room.
Alternatively, if you have an accent piece in your room, that you want to highlight, recessed lighting can be strategically placed to direct attention to that area. For instance, if you have a beautiful decorative tile backsplash in your kitchen, recessed lighting can be installed above it to showcase its beauty. Similarly, if you have a unique vanity in your bathroom, placing recessed lights around it can create a soft dazzling glow that will make it stand out.
Lighting fixtures have an incredible effect on the ambiance and appearance of a room. They create drama, add warmth and make your space inviting. Whether you go for a chandelier, pendant light or opt for recessed lighting, incorporating lighting fixtures in your décor scheme is an excellent way to create a focal point that is both functional and aesthetically pleasing. So go ahead, and let your creativity shine through with the power of lighting!
The Vanity Area
When it comes to the vanity area, consider adding a statement mirror with a unique frame or shape. A bold wallpaper or accent wall can also act as a focal point in the space. And don't forget about the details – adding decorative hardware, such as unique drawer pulls or towel hooks, can add a touch of personality to the space.
The vanity area is where you prep and primp in the morning, so why not make it a space that truly reflects your style? Instead of settling for a basic mirror, opt for a statement piece that packs a punch. Whether it's a funky shape or a striking frame, a bold mirror can instantly elevate your bathroom's design.
But that's not the only way to create a focal point in your vanity area. A vibrant wallpaper or textured accent wall can also do the trick. This is your chance to let your creativity run wild – think outside the box and choose something that speaks to you.
And let's not forget about the details. By swapping out basic drawer pulls or towel hooks for more unique options, you can infuse some personality into even the tiniest design elements. These little touches may seem small, but they can truly make a big impact on the overall look of your bathroom. So don't be afraid to mix and match styles, colors, and materials until you achieve the perfect vanity area that's tailored to your unique taste.
Overall, creating architectural focal points in bathroom interiors is a great way to add interest and elevate the design of the space. Whether it's a statement shower, a unique bathtub, interesting lighting, or decorative details, there are endless ways to make a bathroom truly stand out.