---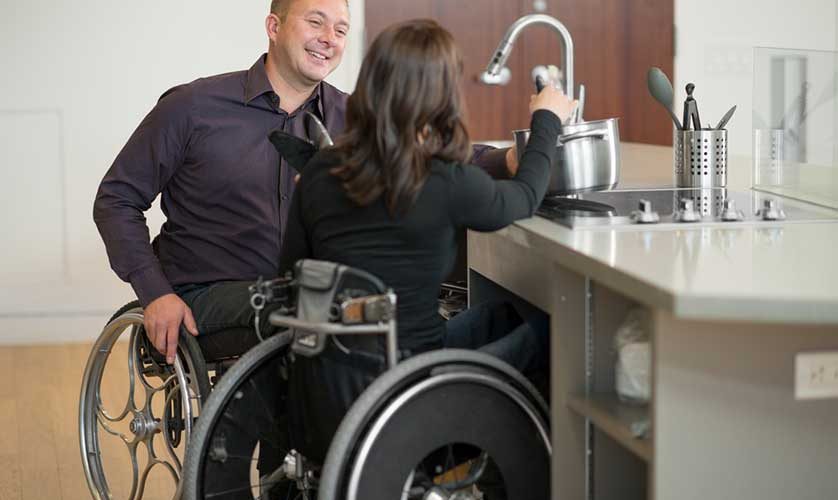 ---
An ADA-compliant kitchen complies with the accessibility guidelines set within the Americans with Disabilities Act. It caters to the needs of individuals with disabilities while adding value and style to the home. In this post, renowned accessible remodeling expert DreamMaker Bath & Kitchen of Ogden will introduce the features and benefits of an ADA-compliant kitchen.
Key Features of an ADA-Compliant Kitchen
An ADA-compliant kitchen has many features intended to accommodate older adults and people with mobility issues. Let's take a look at some of them:
Accessible countertops with a height of 28-34 inches and a depth of at least 24 inches, with clear floor space to ensure easy navigation for people in wheelchairs.
Pull-out shelves and drawers and lower cabinets to make it easy for older adults to reach for kitchenware and dinnerware and use dishwashers and appliances.
Accessible appliances, such as front-control cooktops, ovens, refrigerators and dishwashers with side-by-side doors or drawer-style designs, make it easy and safe for anyone to cook food and do chores.
Roll-under sinks and lever-handle faucets help people in wheelchairs and older adults access and use the sink comfortably.
Benefits of an ADA-Compliant Kitchen
An ADA-compliant kitchen comes with several benefits, such as:
Increased safety and comfort for all users, especially older adults and people with mobility issues
Creates an inclusive space that everyone can enjoy.
Improved home value and marketability. Accessibility features are increasingly sought after by homebuyers.
Finding a Professional Kitchen Remodeler
Finding a professional kitchen remodeler with experience in ADA-compliant designs is crucial to ensure a successful project. Here are tips for finding the top "kitchen remodeler near me":
Research online reviews and testimonials to learn about the experience of others who have worked with potential remodelers.
Request a kitchen quote from multiple remodelers to compare pricing and services.
Check for expertise with ADA-compliant projects to ensure your remodeler knows the latest accessibility requirements.
Let's Start a Conversation!
An ADA-compliant kitchen not only enhances the accessibility and usability of your home but also ensures a safer and more comfortable space for all users regardless of age and ability. If you need excellent remodeling services to make your kitchen fully ADA-compliant, you can count on DreamMaker Bath & Kitchen of Ogden. Many homeowners in Bountiful, North Salt Lake, Park City, South Salt Lake, Millcreek, East Millcreek, Sugar House, Mount Olympus, Holladay, Murray, Cottonwood, and Cottonwood West trust our team of experienced remodelers for their high-quality work and long-lasting results. To get started on your kitchen quote, call us at (801) 614-7263, or fill out our contact form.