---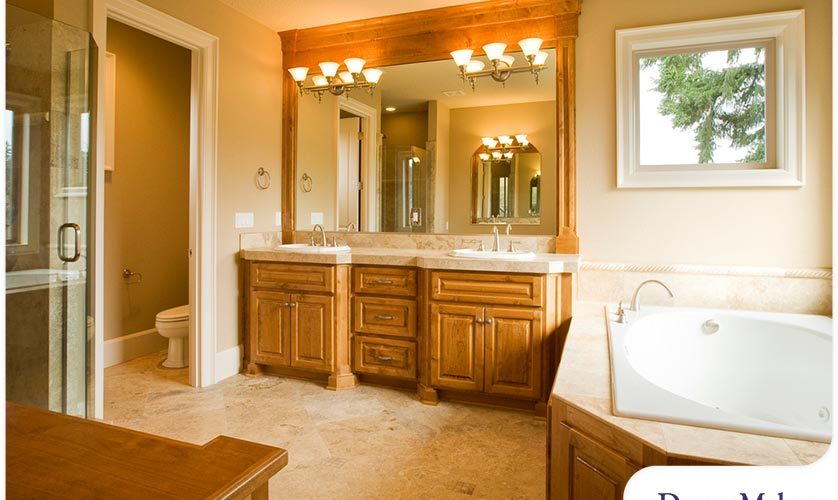 ---
The bathroom is usually one of the busiest parts of a house. It gets even more hectic when multiple people use the room. With careful planning and by hiring skilled professionals, you can design a shared bathroom that works for everyone in the family.
A trusted bathroom contractor shares tips to help with your project.
Make It Stylish
While shared bathrooms usually have limited space, it doesn't mean they can't be stylish. Using neutral and light colors will help make the room appear larger and brighter. You can add pops of color through unique backsplash or tile patterns. Painting the insides of shelves or cabinets will add more visual interest to the room. You can add other decorative pieces like wall art, picture frames and indoor plants for a more inviting look.
Choose Low-Maintenance Materials
Since shared bathrooms get a lot of use, you want to choose durable and low-maintenance flooring and wall materials. Tile is a popular choice because it comes in various styles, sizes and colors. It's also easy to clean and works well in moisture-prone areas. An experienced bathroom remodeler can suggest material options that meet your aesthetic goals and unique needs.
Invest in a Double Vanity
If you have enough space in your bathroom, add two sinks so multiple people can get ready during busy mornings. With two vanities, you also get plenty of storage for towels, toiletries and other bathing essentials.
Ensure Sufficient Storage
Lack of storage is a common issue in shared bathrooms. Assess your space to determine areas where you can add shelves or cabinets. Usually, you can place floating shelves above the toilet. In the shower, you can minimize clutter with recessed niches.
Separate the Shower and Toilet Areas
You can maximize a shared bathroom by separating the shower and toilet from the rest of the room. Closing off these areas will allow two or more family members to use the bathroom simultaneously. It will help save a lot of time, especially when preparing for school or work.
Let's Start a Conversation!
Are you looking for a bathroom contractor near me because you need help designing your space? DreamMaker Bath & Kitchen of Ogden is here to bring your remodeling vision to life. Call us at (801) 614-7263 or complete our online form to schedule a consultation. We work with homeowners in North Ogden, Plain City, West Point, West Haven, Pleasant View and nearby areas.