---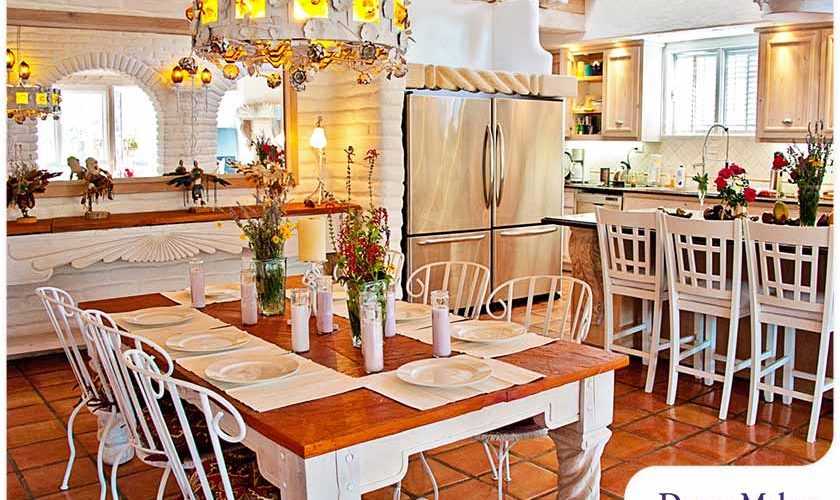 ---
The Southwestern style is a favorite among kitchen designers. Characterized by repeated geometric patterns, rustic accents and earthy colors, this style draws inspiration from the Native American, Mexican and Spanish cultures that dominate the American Southwest. Want to get the look in your kitchen? Here are a few tips from the kitchen remodel experts at DreamMaker Bath & Kitchen of Ogden.

Warm Colors

If you love color, you'll love a Southwest-style kitchen! Warm earth tones, deep reds and oranges, and vivid green and turquoise look right at home in this kitchen style. They mirror colors found in the desert. The general idea is to have a "desert neutral" base with plenty of colorful accents.

Rich Textures & Natural Materials

When it comes to texture, think nature: exposed wood, clay, stone and natural fabrics. But there are a couple of superstars as far as materials go:

Saltillo floors. Genuine Mexican clay tile has been made by artisans in the city of Saltillo since around the 16th century. Done by hand, each piece has its own character as no two tiles are exactly alike. Super Saltillo tile, which has corners and edges that are slightly rounded, tends to be less expensive. Spanish- and Italian-style tiles, meanwhile, are harder and more capable of withstanding high foot traffic inside the kitchen.
Talavera tile. These hand-painted tiles are named after the Spanish city of Talavera de la Reina, which is known for its ceramics industry. They feature intricate symmetrical patterns and nature-inspired motifs, and are a must-have if you are designing a Southwest-style kitchen. Talavera tile makes for beautiful and inexpensive floor and backsplash accents.
Vintage Finishes & Rustic Touches

Kitchen remodeling contractors recommend oiled or aged bronze, copper and brass fixtures for a Southwest-style kitchen. Wrought iron is also an excellent choice for accents and cabinet hardware.

Small, thoughtful details can really help bring your dream Southwestern kitchen to life, whether you're going for a casually elegant vibe or full cowboy chic. Think punched tin switchplates and outlet covers, clay jars and pots, woven rugs and a potted cactus or two.

Let's Start a Conversation!
For bathroom and kitchen renovations, DreamMaker Bath & Kitchen of Ogden is the team to call! Our dream team is always committed to delivering the best design for your needs. Give us a call at (801) 436-8886 or fill out our contact form for an in-home or virtual consultation. We serve homeowners in Mountain Green, Morgan, Farmington and many other communities.