---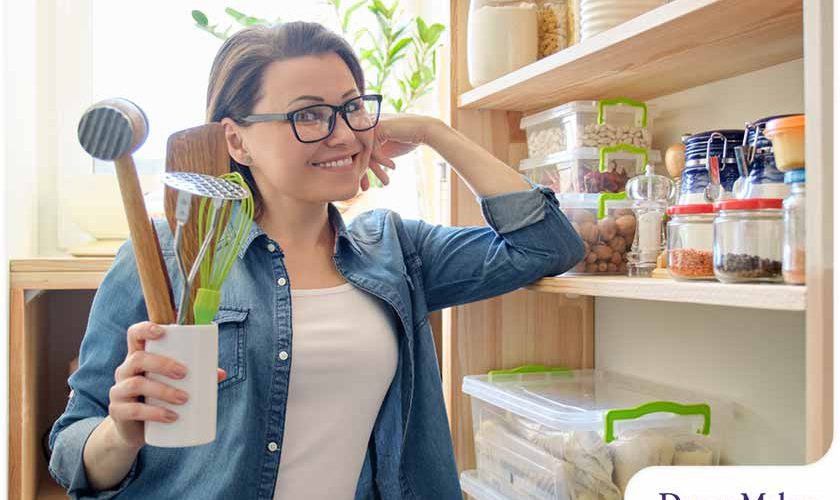 ---
With a smartly planned pantry, you can prevent your kitchen from looking cluttered and messy. When you are cooking, you'll easily find the ingredients that you need. A pantry can save you more time and effort than you think. Read on to learn the 10 commandments of a perfect pantry from a trusted home remodeling expert!
1. The pantry should be near the food prep area. For the most convenience, locate your pantry within 48 inches of the food prep area, if possible.
2. Place your refrigerator and pantry together. To create a balanced look, some designers place the pantry and refrigerator at opposite sides of the kitchen. However, this placement forces you to walk to opposite ends of the room to get cooking supplies.
3. Locate your refrigerator and pantry at the end of the kitchen. Placing the refrigerator and pantry at the edge of a kitchen will let your family members get items they need without interrupting a busy cook.
4. Don't make the shelves too deep. Most shelves are 16 to 20 inches deep; your highest shelf should be around 12 inches deep to make items more accessible. If you have items in your pantry that keep getting pushed back, consider even making the shelves shallower.
5. Space for higher shelving. For shelves that are above eye level, step them back in increments of two to three inches so you can see items easily without using a ladder or step stool.
6. Have enough floor space. Usually, the bottom-most shelf is 20 to 24 inches from the floor but if you need to hang it a little higher, do so. With enough floor space, you'll have room for bulky items, such as pet food and paper towels.
7. Know the right shelf heights. Experienced remodeling contractors suggest raising or lowering your pantry shelves, depending on the items you will store on them. Set a clearance of at least two inches above the tallest item on the shelf. This way, you will be able to easily access those items and minimize wasted space. As a general rule, allow up to seven inches for canned good shelving, 14-16 inches for cereal boxes and 18-20 inches for large items.
8. Focus more attention on certain shelves. Place the items that you use the most on the waist- and eye-level shelves. It's also a good idea to use bins or organizers on these shelves to allow other family members to easily access and return items.
9. Rearrange as necessary. Revisit your pantry organization system from time to time. Keep in mind that your pantry should evolve with your needs. For example, if you have kids, you could place snacks on the shelves that they can easily reach.
10. Ensure sufficient lighting. Like all parts of your home, the pantry needs sufficient lighting so you can use the space efficiently. Make sure that all shelves are well-lit and the area is free of glare.
Let's Start a Conversation!
Planning a bathroom, kitchen or closet remodel? Turn to DreamMaker Bath & Kitchen of Ogden for superior home remodeling services. Give us a call at (801) 436-8886 or fill out our contact form to start a conversation with our design experts. We serve homeowners in Morgan, South Weber, Mountain Green, Ogden and nearby areas.