---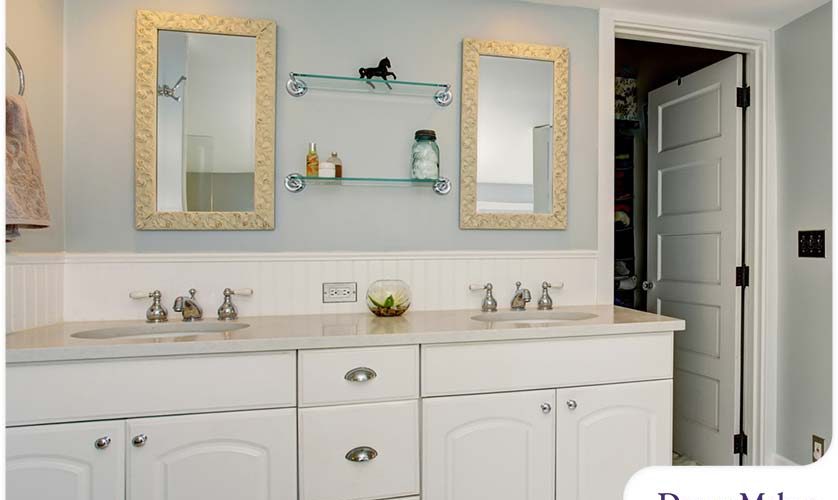 ---
Designing a shared bathroom can be overwhelming. From ensuring the space is functional to choosing décor that fits everyone's style, there's much to consider. This includes the number of people who will use the space and the aesthetic elements that will go into the design. DreamMaker Bath & Kitchen of Aiken, the trusted "bathroom contractor near me", discusses further.
Factors to Consider
When designing a shared bathroom, the size of the room is an essential factor to consider. Establishing how much square footage is available will determine what items can be installed and where they can be placed. Additionally, judging how many people will use the bathroom regularly will influence which ideas make it into your final design plans and budget decisions. Of course, you shouldn't forget the bathroom's storage needs and aesthetics.
Design Elements
As for the design elements, the choices are virtually limitless. Mirrors, for instance, can create the illusion of space while providing light and functionality to get ready in the morning or evening. Lighting should also match other elements within the bathroom or touch up other décor choices made throughout. The choice of tile for the floors and walls of the shared bathroom must also be weighed against factors such as cost and durability against moisture. Make sure to discuss your plans for the space with your chosen bathroom contractor.
Tips for Maximizing Space
Selecting multi-purpose pieces is essential to maximizing the space in a shared bathroom. Hooks placed at the back of doors or on walls for towels and robes help free up shelving areas. Maximize wall-mounted elements such as a medicine cabinet to store small toiletries and medicines away from busy countertops, which can clutter quickly with multiple people using them regularly. A curbless shower can also be a great way to avoid hindrances to freedom of movement.
Open shelving is also beneficial. They don't take up much floor space while also providing practical storage solutions. Of course, adding transparent or glass pieces to create an airy feel can bring style to any design plan and add light to dark patterns that you may use in tile or flooring choices.
Let's Start a Conversation!
As the trusted bathroom remodeler in the area, DreamMaker Bath & Kitchen of Aiken utilizes a distinctive, full-service bathroom remodeling approach focused on serving you throughout the process, from design through installation. Count on our team of experienced remodelers to provide superior workmanship in line with our Code of Values™. To schedule a conversation, call us at (803) 266-1913, or fill out our online form! We serve North Augusta, Graniteville, New Ellenton, Beech Island, Barnwell and Edgefield Park.