---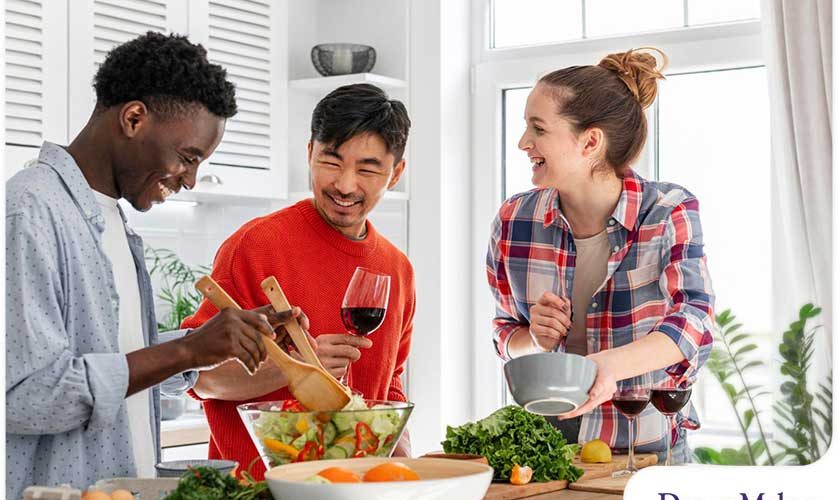 ---
The kitchen is often the heart of a home, and creating an inviting space for gathering with family and friends is vital. But what are some things you can do to make your kitchen the ultimate gathering place? In this blog post, we cover the benefits of making your kitchen the ultimate gathering place and tips for designing a functional and aesthetically pleasing space that's sure to be enjoyed by all.
Benefits of Making Your Kitchen the Ultimate Gathering Place
When you create a kitchen as the ultimate gathering place, it will become a space where people naturally congregate. With an inviting atmosphere and comfortable seating, your friends and family are sure to spend more time in the kitchen chatting while meals are prepared. Having a well-designed kitchen also helps with meal preparation and storage. This can make cooking more accessible, so you can maximize your time with friends or family instead of being stuck in the kitchen alone for hours.
Tips for Designing a Kitchen as the Ultimate Gathering Place
When designing your kitchen as the ultimate gathering place, there are several things to consider. Here are a few tips you need to consider before getting a kitchen quote.
Choose a Color Scheme and Universal Layout
Choosing a color scheme and a universal layout will help make your kitchen the perfect gathering place. Consider using colors that evoke a feeling of warmth, such as earth tones or bright hues like oranges, yellows and reds.
Furthermore, consider your available space for seating, appliances and storage options. Regarding layout, think about ensuring enough countertop space for multiple people to work together in the kitchen.
Invest in Quality Materials, Installation and Remodeling
Creating a kitchen built to last is critical when making your kitchen the ultimate gathering place. Invest in quality materials such as durable countertops, cabinets and energy-efficient appliances. You may also consider having professionals handle installation or remodeling needs. This will ensure everything is done correctly and safely, so you can enjoy your new kitchen for years to come.
Maximize Seating for Gathering With Family and Friends
Maximizing seating for gathering with family and friends is essential for a great kitchen. Invest in comfortable chairs or stools and an island or bar that can accommodate multiple people. If space allows, consider adding a table to the kitchen so everyone can sit together while meals are prepared.
Incorporate Technology for a More Efficient Kitchen and Family Entertainment in One
Incorporating technology into your kitchen can make it a more efficient gathering place. Consider adding a digital assistant such as Alexa to help with meal prep and grocery shopping. You can also add a flat-screen TV or sound system, so everyone can enjoy music or watch their favorite shows while meals are being made.
How to Find a Reliable Kitchen Remodeler Near Me
If you've wondered, "How do I find a reliable kitchen remodeler near me?" Well, there are a few things you need to keep in mind:
Reputation – Read reviews online.
Experience level – Check how long they've been in the business.
Price – Ask about the costs associated with each project.
Terms and Conditions – Understand what each point means before signing a service contract.
Let's Start a Conversation!
DreamMaker Bath & Kitchen of Aiken aims to complete a kitchen for you that fits your dreams. For a free kitchen estimate, contact us at (803) 266-1913. Our service areas include North Augusta, Graniteville, New Ellenton, Beech Island, Barnwell and Edgefield Park.