---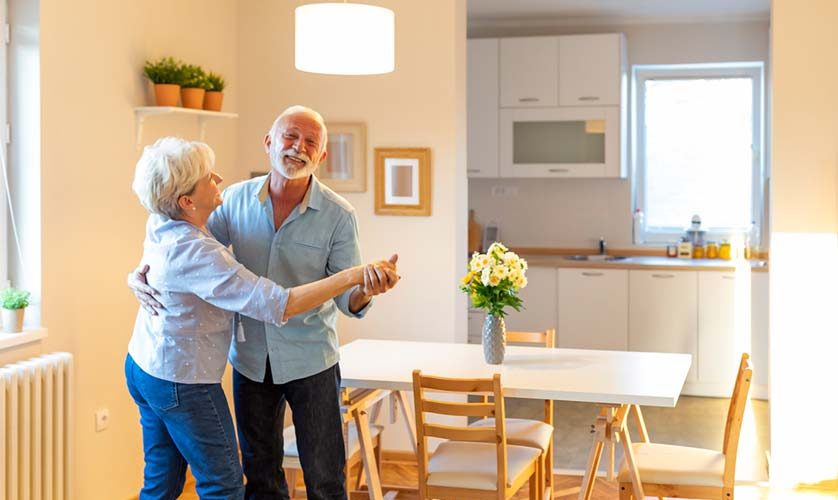 ---
The ideal floor plan for aging in place prioritizes accessibility, safety and convenience. In this guide, accessible remodeling specialist DreamMaker Bath & Kitchen of Wilmington explores the key elements of an age-friendly floor plan and provides insights on creating a space that supports graceful aging.
Open Layout for Easy Maneuverability
An open floor plan is a fundamental feature for aging in place. It eliminates barriers and allows for easy maneuverability, whether using a mobility aid like a walker or a wheelchair or simply moving around comfortably. Here are some considerations for an open layout:
Wider Doorways. Ensure that doorways are wide enough to accommodate wheelchairs or walkers. A minimum of 36 inches is recommended.
Stepless Entries. Eliminate steps or raise thresholds at entrances to prevent tripping hazards. Ramps or gently sloped entrances are preferable.
Open-Concept Kitchen. An open kitchen with a spacious layout and lower countertops allows for easy meal preparation and access to kitchen appliances. Consider pull-out shelves and drawers for easier access to items.
Accessible Bathroom. Bathrooms are critical areas for aging in place, and the layout should prioritize safety and accessibility. Consider getting a bathroom quote with the following design elements: curbless or roll-in shower, grab bars and an accessible sink with knee space underneath. Installing a comfort-height toilet and a handheld showerhead can also enhance usability.
Bedroom on the First Floor. For aging in place, having a bedroom on the main level of the home is essential. Climbing stairs can become increasingly difficult as one ages, and having a ground-floor bedroom ensures that seniors can avoid navigating staircases daily. Additionally, a main-level bedroom can serve as a versatile space that accommodates changing needs, such as a home office or guest room when not needed as a primary bedroom.
Accessible Storage. Incorporate accessible storage solutions, such as pull-out shelves and drawers, in kitchen cabinets and closets. This makes it easier to reach and organize items.
Consult With a Professional
The ideal floor plan for aging in place is not a singular blueprint but rather a harmonious blend of essential elements thoughtfully arranged to cater to the preferences and needs of the occupants. It's important to recognize that not all recommendations are universally required for every individual seeking to create an age-in-place floor plan. Nevertheless, crafting a tailored combination that aligns with your lifestyle and capabilities will greatly assist in the planning and design of the perfect age-in-place residence.
Consulting with a reputable contractor who specializes in accessible home design is highly recommended. They can assess your home's layout and recommend specific modifications and adaptations to ensure your space is safe and comfortable for aging in place.
Let's Start a Conversation!
Aging in place is a wonderful option, but it requires careful planning and thoughtful design. Remember, it's not just your current needs you must consider, but your future ones, too.
Are you ready to start planning your ideal home for aging in place? No need to look up "general contractor near me" online — get in touch with DreamMaker Bath & Kitchen of Wilmington as soon as possible! Call (910) 928-2207, or fill out our contact form to get started. We serve homeowners in New Hanover, Landfall, Ogden, Wrightsville Beach and Marsh Oaks.